Short on time? Marvel over the star attractions of Australia's Red Centre on a half-day tour from Ayers Rock. Witness the dazzling sunrise over sacred Uluru from the Talinguru Nyakunytjaku viewing platform and learn about the rock's spiritual importance to the Anangu indigenous people. Then, embark on a guided hike through the red desert of the Walpa Gorge and get up close to the magnificent domed rocks of Kata Tjuta (The Olgas).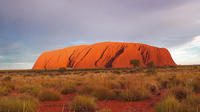 Today you'll be up early to drive to Talinguru Nyakunytjaku – the Uluru sunrise viewing area. During the journey your experienced Driver Guide will share some history on the numerous sacred sites that you'll pass along the way. These stories form part of what is known to the local Anangu people as Tjukurpa – the foundation of Anangu life and culture. Tjukurpa encompasses Anangu religion, law and moral systems, the creation period and the relationship between people, plants, animals and the land.

Once at Talinguru Nyakunytjaku you'll be served a morning tea of coffee, tea, hot chocolate and an assortment of sweet biscuits while you begin to familiarize yourself with the beautiful surroundings. You can just relax and take a seat or wander around the viewing area in search of your own personal place to watch the sunrise.

The Talinguru Nyakunytjaku viewing platform allows you to see for many miles. From here you'll witness first light as it gently embraces the desert landscape. You'll no doubt want to take advantage of the amazing photo opportunities that this experience provides. As the sun rises so too does the incredible bird life that calls Uluru home. Listen as the birdsong welcomes the new day and experience the tranquility of nature.

Travel to the mystical 36 domes of Kata Tjuta. On the way enjoy panoramic views of the southern side of Kata Tjuta before arriving at the base of Walpa Gorge. Spend some time exploring the gorge and the unusual conglomerate rock formations. The walking trail through Walpa Gorge follows the natural creek between two of the tallest domes of Kata Tjuta.