Beat the crowds, and get early access to Park Güell in Barcelona. Explore the stunning creations of Antoni Gaudí before the park gets too packed with people. Spend time marveling at the Hall of Columns, a mosaic lizard statue, beautifully planned viaducts and porticoes, and storybook-like gatehouses.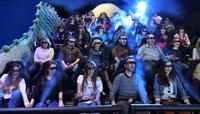 Be prepared to get an early start with this tour, but know it's well worth it. Meet your group at 7:50am at the spot given to you at the time of checkout.

At Park Güell, dodge the entrance lines, and follow your guide into the park—your group will be some of the very first people inside the park that day. Keep an eye out for the famous mosaic-coated dragon at the entrance stairway and the impressive storybook-like gatehouses.
Walk along the garden trails as your guide talks you though the history and inspiration behind the creations done by Antoni Gaudi. See the Hall of Columns and its upper terrace lined with a winding mosaic bench. Spot out more of Gaudi's works such as a mosaic lizard statue and other beautifully planned viaducts, porticoes, buildings, and statues.

Your tour ends at the park, so you can decide if you'd like to stay and explore—remember, you have all-day access to Park Güell.