Witness a profound side of French and American history with a visit to Omaha Beach from Bayeux. On this 3-hour small-group tour, you'll stroll the Normandy beaches, explore critical wartime sites like Pointe du Hoc and the Normandy American Cemetery, and learn fascinating facts and histories about WWII from your guide. In the company of a small group, you'll have the chance to personalize the journey, stopping to take souvenir photos and ask questions.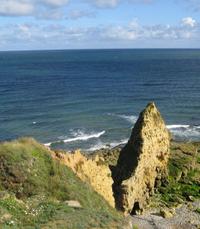 You'll be picked up from central Bayeux or your hotel and driven by comfortable 8-passenger minivan to three of Normandy's most important World War II sites. Throughout your 3-hour morning tour, your guide will tell stories about the events surrounding D-Day, the infamous day in 1944 when the Allies invaded German-occupied Normandy.
First, visit the prominent cliff of Pointe du Hoc, one of the largest German coastal batteries. With their long-range guns and canons, they threatened the whole American sector all the way to the coast to Omaha Beach and Utah Beach. On D-Day, American forces landed on the small rocky beach, bravely scaled the sheer cliffs, and successfully located and destroyed the guns. It was quite a feat — many thought it would be impossible — and the total casualties were devastating. With its huge fortifications blown to pieces, the well-preserved site remains as it was when the US Rangers left it — like an eerie lunar landscape.
Next, drive along the coast to Omaha Beach, the most famous of the five D-Day beaches, depicted in the movie Saving Private Ryan. American soldiers had to jump out of their Landing Craft, wade their way out of the cold water, cross the beach and get up onto the bluff, all while being shot at. Due to the site's topography, this operation was D-Day's bloodiest and almost failed, but the bravery, courage and sacrifice of those young men turned it into a victory.
Overlooking the bluff is the Normandy American Cemetery and Memorial, which you'll visit next. The final resting place of 9,387 American service men whose graves are marked by beautiful white marble headstones, this site is a poignant tribute to those who fought so valiantly in one of the deadliest battles in history. You'll see some of the better-known graves including the three Medal-of-Honor recipients and General Theodore Roosevelt Jr, as well as Ollie Reed father and son and the two Niland brothers, who served as inspiration for Saving Private Ryan.
After your tour of the cemetery, hop back in the minivan and relax on the contemplative ride back to Bayeux.
Please note: Due to special events taking place to commemorate the 70th anniversary of the D-Day landings, this tour may be amended on June 5, 6 and 7 2014. It may not be possible to access the beaches, in which case alternative sites will be visited instead.