Leave the crowds of the most popular parts of China's Great Wall behind, and enjoy a hike along the 'wild' Gubeikou section. Further from Beijing, this original section is largely unrestored, so you feel closer to history. This full-day private tour from Beijing centers on a 3- to 4-hour hike along the ramparts, tracing the wall through the forested Yan Mountains to Jinshanling. A post-hike lunch, entrance fees, and round-trip private transport included.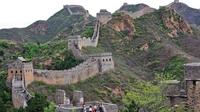 Wear suitable hiking clothes and sturdy boots, and start with an early pickup at your central Beijing hotel. Settle inside your private vehicle with your guide and driver, and head northward to the Gubeikou Great Wall.

On route, enjoy the views of China's countryside and towns as your guide shares information about the region.

Hear about the Great Wall's history and construction, and get the lowdown on Gubeikou, one of the original, 'wild' sections of the wall perfect for hiking away from the crowds.

Located to in the Miyun district about 77 miles (125 kilometers) from Beijing, this famous section links the Shanhaiguan and Juyongguan stretches of the wall. Originally built during the Northern Qi dynasty in the 6th century, it was rebuilt during the Ming dynasty between the 14th and 17th centuries, and served a key strategic role: protectung a major mountain pass from Mongol incursions from the north.

After roughly 2.5 hours, arrive and take in the views of the wall snaking along the ridges of the Yan Mountains. Then, leave your vehicle and driver, and walk up to the wall above Gubeikou village, with your guide leading the way. At the top, set out eastward along the ramparts on your 3- to 4-hour hike.

Absorb the forest-clad mountains and wall snaking before you, and enjoy regular photo stops to capture the scenery. Pass several towers, including the 24-window tower, unusual for having six windows on each side; and take a detour down into a picturesque valley before returning to the wall again, and finishing at Jinshanling.

After descending, recharge with a delicious late lunch at a good quality local restaurant. Then, meet back up with your driver and vehicle, and return to Beijing, where your tour ends with a hotel drop-off.