Experience one of the most scenic and less-visited sections of China's Great Wall on a private full-day guided hiking trip from Beijing. Travel to the restored Huangyaguan section, and walk the ramparts and stairs along sharp mountain ridges past crags, cliffs, and forests. Admire the views, pass through towers and turrets, and have lunch at a local farmer's restaurant. Private transport with central hotel pickup and drop-off, plus entrance fees included.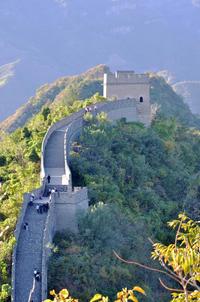 Dress suitably for hiking, and depart your central Beijing hotel in the morning. Hop inside your private, climate-controlled vehicle with your guide and driver, and begin the 80-mile (129-kilometer) journey to the Huangyaguan Great Wall.

On route, gaze at Beijing's suburbs and China's countryside, and hear about the history the Great Wall. Gain insight into the Huangyaguan section, considered one of the most scenic for its water towers and route through the verdant Yanshan Mountains of Tianjin.

Hear how this now largely restored section was built during the Northern Qin dynasty around 1,400 years ago, and reinforced in the Ming era between the 14th and 17th centuries. Today, it's one of the least visited stretches for being further from Beijing than sections such as Badaling.

After about 2.5 hours, absorb your first sight of the wall as it snakes along the precipitous mountain ridges. Follow your guide up to the fortification, and start your roughly 2-hour hike along the western section.

Admire the surrounding forests, crags, and cliffs, and ascend Heaven's Ladder — a steep climb of over 200 steps — to a ridgetop point that commands spectacular panoramas over the mountains and wall winding into the distance.

Pass water towers, turrets, and other emplacements along the eastern section on route to what's known as the Widow Tower. See inside this square-shaped beacon tower, built during the Ming era, and hear the legend behind its name.

Your hike then finishes at the statue of General Qi Jiguang, the military leader who oversaw much of the wall's building during the 16th century.

Descend and reconvene with your vehicle nearby, and enjoy a delicious late lunch at a local farmer's restaurant. Your tour then concludes with a drop-off at your Beijing hotel.