Combine traditional Chinese cuisine with a unique cultural experience on this private 4-hour evening tour in Beijing, including dinner and hotel pick-up. Tuck into a delicious array of Chinese specialties and learn about China's rich culinary heritage as you dine at a typical local restaurant. After dinner, prepare to be awed by a show-stopping display of Chinese martial arts, performed by Shaolin warriors and set to atmospheric music.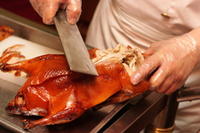 There's no better way to spend your time in Beijing than enjoying its mouth-watering food and its rich culture.

On this private tour, you'll be picked up from your hotel in a private air-conditioned vehicle and taken by your tour guide to an upscale Chinese restaurant specializing in Beijing cuisine. Your guide will introduce you to the classic Beijing dishes and you'll have the chance to try some of them for yourself. Your guide will also give you insight into the intricacies of Chinese food culture and dining etiquette, and you'll have the opportunity to learn how to use chopsticks.

After dinner, your guide will take you to one of Beijing's best theaters to watch a 1.5-hour performance of Chinese martial arts. While there are many forms of Chinese kung fu, the most famous branch is Shaolin boxing. This art originated at Shaolin Temple in Henan province. Shaolin boxing's fighting styles are based on five creatures: dragon, snake, tiger, leopard and crane, and the different moves are an outgrowth of these styles.

You'll enjoy a mesmerizing performance of Shaolin warriors demonstrating their agility and skills to a backdrop of enchanting music and colorful lights. See the gymnasts crack metal bars, balance a wooden stick on their foreheads, and box and fight with various weapons.