Celebrate the rock and roll lifestyle during your visit to the German capital with this 2- or 3-course meal at the Hard Rock Café Berlin. Check out this famous café's incredible collection of musical memorabilia as you enjoy of crowd-pleasing food and shop for souvenirs at the on-site retail store. Best of all, Berlin has no official closing time for bars and restaurants, so feel free to keep your party going late into night. Your visit includes either a 2- or 3-course meal, priority seating an optional souvenir t-shirt (with the 'Ultimate Package').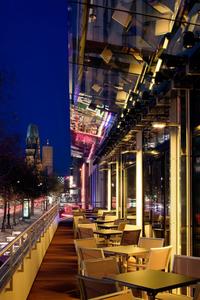 Party like a rock star during your visit to Berlin with this 2- or 3-course dinner excursion at this famous music-themed eatery. It's a fun opportunity to enjoy some tasty food, set among the lively atmosphere of this restaurant and the surrounding streets of West Berlin's Ku'damm, lined with all manner of beer halls, theaters, coffee houses and nightlife options.
Enjoy your meal at any time during the café's opening hours, choosing from among Gold Menu, Diamond Menu or Ultimate Menu. Each offers a range of tasty food choices, ranging from burgers to salads to mac and cheese, ribs, salmon, and much more, plus your choice of coffee, tea or soft drink. Those who select the "Ultimate" option will also receive an included souvenir t-shirt.
For a full run-down of menu options, check out the itinerary details below.
Itinerary

GOLD DINNER MENU

Choice of Main Course:
Legendary Burger
Veggie Burger
Honey Mustard Chicken Sandwich
Chicken Caesar Salad
Twisted Mac, Chicken & Cheese

Dessert:
HRC's Signature Ice Cream

Choice of Beverage:
Coffee, Tea or Soft Drink


DIAMOND DINNER MENU

Starter:
Lil Caesar Salad or Lil Bruschetta

Choice of Main Course:
Twisted Mac, Chicken & Cheese
Hickory-Smoked Bar-B-Que Ribs
Hickory-Smoked Bar-B-Que Chicken
10oz. Legendary Burger
Veggie Leggie Burger
Chicken Caesar Salad

Dessert:
Baker's Choice (dessert of the day)

Choice of Beverage:
Coffee, Tea or Soft Drink


ULTIMATE DINNER MENU:

Starter:
Lil Bruschetta

Choice of Main Course:
Fiesta Burger
Grilled Salmon
Grilled Chicken Arugula Salad
Veggie Leggie Burger

Dessert:
Lil Hot Fudge Brownie

Choice of Beverage:
Soda, Tea, Coffee

AND Hard Rock Cafe Classic T-shirt