Cruise the waters off the Big Island at sunset on this 2-hour cocktail cruise from Kawaihae. Board a fully-equipped power catamaran and journey up the scenic coastline. Watch the setting sun and enjoying island breeze from a variety of seating options on deck or in the cabin. Step up to the buffet for a variety of pupu, including both hot and cold appetizers. Quaff drinks from the open bar and get your camera ready for stellar sunset photo ops. Round-trip transportation from select Kawaihae hotels is provided.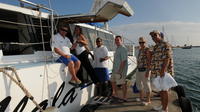 After checking in at the Whale Center in Kawaihae, you'll step aboard a comfortable shuttle bus for a 5 minute ride to the secured harbor at Kawaihae where your catamaran awaits (adults -- please remember to bring a government issued ID for entry clearance). The vessel is easy to board via the sidewalk style dock, and your crew will assist you in boarding.

Once on board, you'll be offered a tropical cocktail or soft drink as you familiarize yourself with the catamaran and the spacious seating areas in the cabin and on deck. You'll find two "airplane-style" restrooms at deck level inside the cabin. The cabin also includes 6 tables with custom seating for 24 surrounded by table to ceiling windows for great ocean views. For those guests who really want to relax, there's even a couch inside! On deck at the bow of the boat, you'll find bench seating as well as two large netted trampolines (perfect for lounging). Going aft, you'll find bench seating along the cabin and couch seating at the stern of the boat.

As you get underway, our USCG licensed captain will introduce you to the boat and the crew, and provide a short safety orientation. An assortment of hot and cold pupu (appetizers) are available throughout the cruise, including spicy chicken wings with a ranch dipping sauce, BBQ style meatballs, classic slider buns, chips & salsa, and a platter of crisp veggies. A complimentary bar is open for the duration of the charter featuring tropical cocktails, a short bar, local beers on tap, red and white wines, and soft drinks.

Throughout the cruise, you can help yourself to appetizers (though the friendly crew will be happy to bring them to you -- as well as refresh your beverages). Enjoy the unparalleled views of the coastline...take the helm under the guidance of the experienced captain, or relax on deck or in the cabin and let us do all the work! Watch for the "green flash" as the sun sets over the horizon! Your captain will turn the boat and head back into the harbor, securing the vessel on the dock two hours after the departure time. Deboarding the catamaran is as easy as boarding, and you'll walk up the short sidewalk style dock to the shuttle bus for your ride back to your vehicle or hotel.