This two-tank Big Island scuba dive is for experienced, certified divers, who are looking to log bottom time at some of the Big Island's best and most colorful dive spots. The tour departs from Slip 18 in Kawaihae, and features two dives that range in length from 30-45 minutes. Given the current ocean conditions, your captain will choose the best locations for your two-tank Big Island scuba dive, and a third of the marine life you'll encounter on this tour is endemic to here in Hawaii.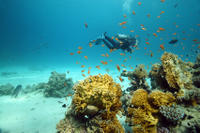 Your Big Island scuba dive begins at Slip 18 in Kawaihae, where you'll board the dive boat and embark on a journey along the Kohala Coast. You'll be fitted with all of the necessary equipment such as BC, regulator, and weights, and since trips are capped at only 10 people, you're ensured a safe and personalized experience for exploring beneath the waves. 

As you hook up your tank and prepare for the dive, the captain will steer the boat in the direction of the site with the best conditions for diving. In winter, keep an eye out for humpback whales while you enjoy the cruise to the dive site, and there's even the chance your entire dive could take place to the soundtrack of whale song. 

On this Big Island two-tank scuba dive tour, possible dive sites include: 

Pentagon:
Lava Tube Diving. Lava tubes and arches

Arena:
Diving with White Tip Reef Sharks in Hawaii. Arches, tubes, white tip reef sharks

KPC:
Whales in the winter with Waikoloa Coast Divers. Coral, gradual drop off, winter whales

6th Hole:
Manta Ray Cleaning Station on the Big Island of Hawaii. Manta cleaning station, eagle rays and golf balls.

Mauna Lani Fingers:
Reef Lava-flow coral formations, lots of coral, fish and turtles

Turtle Mound:
Turtle Cleaning Station on the Big Island of Hawaii. Turtle cleaning station, arches, lava tubes, white tip reef sharks

Paniau, Puako:
Fish and Reef on the Big Island of Hawaii. Cavern, coral, turtles and walls.

Puako Point, Puako 3, Puako 4:
Diving Through Arches. Coral, arches, garden eels, and turtles.