Walk through rustling tropical forests and earn sweeping views of the British Virgin Islands on a 2-hour hiking tour of Sage National Park from Road Town. Follow your guide past towering mahogany trees and lacy ferns, watch for brightly colored lizards and frogs, and listen for the trilling call of the islands' native turtle doves. Emerge from the forest canopy at lookouts that command panoramas of the US and British Virgin Islands then try to spot Puerto Rico on the hazy, Caribbean horizon.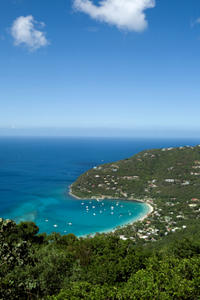 Board a comfortable bus at your hotel in Road Town and make your way up the winding roads of the British Virgin Islands to Sage Mountain National Park. Once at the park, follow your guide on a hike along one of the various walking trails.

Enjoy a guided hike, suitable for all fitness levels, and be on the lookout for mahogany tress, coco plum shrubs and the majestic fern tree. Spot native animals like lizards and frogs. Keep an eye out for the turtle dove, the island's national bird.

During your hike, enjoy breathtaking views from various lookout points. From the top of the park, you'll be able to see both the US Virgin Islands and British Virgin Islands. On a clear day, you may even be able to spot Puerto Rico in the distance!