Discover the natural and cultural treasures of two of South America's most iconic cities on a guided 7-day tour that takes you from the vibrant colonial streets and tango halls of Buenos Aires to the world-famous beaches and monuments of Rio de Janeiro. Along the way, stop at the spectacular Iguassu Falls to witness the thundering cascades from both Argentinian and Brazilian vantage points. Numbers are limited to 12 people for a personalized small-group experience.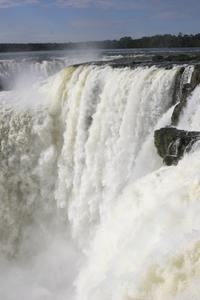 Experience the best of South America's eastern coast on an impeccably planned, 7-day tour designed to give you a taste of regional history, flavors, nightlife and natural attractions. Begin your tour in Buenos Aires, where you'll explore the city's Latin American and European roots with a guided walking tour of local highlights, like the brightly painted streets of the Caminito and the Casa Rosada presidential mansion where Eva Perón delivered her famous speeches.
Fly north to Puerto Iguazú (airfare included) and spend two days exploring the jaw-dropping Iguassu Falls. Learn about the native history of the area and take in different vantage points of the cascades from national parks on the Brazilian and Argentinian sides.
Continue up the coast to Rio de Janeiro (airfare included) to experience the world-famous beaches and nightlife of this spectacular coastal metropolis. Follow the gaze of the iconic Christ the Redeemer statue for sweeping views of the city and Guanabara Bay from atop Corcovado mountain.
Enjoy a combination of carefully scheduled activities and leisure time to explore on your own. In addition to the two flights, the tour includes 6 nights of accommodation in three-star hotels, a professional guide, and many meals — so you can skip the stress of planning and lose yourself in the rhythms and wonders of an unforgettable South American experience.
See Itinerary below for a complete tour description.
Itinerary
Day 1: Buenos AiresWhen you arrive in Buenos Aires, a tour representative will meet you at the airport and transfer you to your hotel. Once there, you will have time to rest before your fun-filled tour of Buenos Aires begins the following day.

Overnight: Hotel Patios San Telmo or similar in Buenos Aires
Day 2: Buenos Aires (B,L)During your second day in Buenos Aires, embark on a guided walking tour to see some of the city's top sights before lunch out with your small group. Follow your guide along the cosmopolitan streets as you visit city landmarks including Plaza de Mayo and Casa Rosada. Visit some of the eclectic neighborhoods, each with its own distinct style: Browse elegant boutiques, head to San Telmo for a weekend antiques market, and see artist displays in La Boca and its famous 'Caminito.' After lunch, you're free to continue exploring this fantastic city, which mixes European style with Latin flair. Optional activities (own expense) include a soccer (football) game or a tango show.

Overnight: Hotel Patios de San Telmo or similar in Buenos Aires
Day 3: Buenos Aires – Iguassu Falls (B,D)Fly to Puerto Iguazú, a relaxed and friendly Argentinean town and gateway to impressive Iguassu Falls. On your first day, visit the Brazilian side of the area, which offers a grand panorama of the falls – a series of 270 cascades stretching nearly 1 mile (3 km) across and 260 feet (80 meters) down – wider than Victoria Falls and higher than Niagara Falls!
Take in breathtaking sights and listen with awe to the deafening roar of the mighty Iguassu, meaning 'Great Waters' in the indigenous Tupi-Guarani language. Your guide will tell your small group the folk legend of the fall's origin – including the fate of a beautiful girl and her mortal lover who were chased down the river by a jealous serpent god.
After a day enjoying the splendor of the falls, return to Puerto Iguazú to rest, spending free time by the pool at your locally owned accommodation. In the evening, your guide will either cook or take your small group out for a traditional Argentinean asado (barbecue).
Overnight: Hotel Jasy or similar in Puerto Iguazú
Day 4: Iguassu Falls (B)Visit the Argentinean side of Iguassu Falls, where you can spend the entire day walking along the many paths around the park. Admire the tropical flowers, vivid butterflies and misty rainbows that add to the magic of this must-see destination. Or, choose an adrenaline-pumping adventure (each optional activity at own expense): take a Zodiac boat ride past the waterfalls on Rio Iguaçu, ride a truck through the rainforest or enjoy a helicopter ride over the top of Iguassu Falls!
Overnight: Hotel Jasy or similar in Puerto Iguazú
Day 5: Puerto Iguazu – Rio de Janeiro (B)
Take a midmorning flight to Rio de Janeiro. Set against the radiant green of Guanabara Bay and surrounded by the slopes of Sugarloaf Mountain and Corcovado, the metropolitan coastal city is affectionately referred to as the 'Cidade Maravilhosa' (Marvelous City). Upon arrival in Rio, settle in at your 3-star hotel, located between Copacabana and Ipanema for easy access to both beaches.

Overnight: Hotel Atlantis Copacabana or similar in Rio de Janeiro

Day 6: Rio de Janeiro (B)After breakfast, your guide will take your group to visit the open-armed Christ the Redeemer, the world's largest art deco statue, which stands 98 feet (30 meters) tall atop the granite ridge of Corcovado in Tijuca Forest National Park. From here, admire lovely panoramic vistas of the cityscape and Guanabara Bay below.

Then, head to a favela, and stroll down narrow alleys, passing by dance clubs, staircases and small bars. Meet a few locals, learn about daily life, and dispel some of the myths about these vibrant communities.

The rest of the day is free for you to continue exploring Rio on your own. Head down to the white-sand beaches of Copacabana and Ipanema to soak up the sun, or explore the city's live music scene in the neighborhood of Lapa. Join locals and dance to famous rhythms including samba, jazz, bossa nova and many other fusions of regional styles.

Overnight: Hotel Atlantis Copacabana or similar in Rio de Janeiro

Day 7: Rio de Janeiro (B)
As there is no itinerary planned for your final day, you can depart your accommodation at any time; checkout time is noon, and you can arrange luggage storage at the hotel, if you wish.

Your guide can help you choose from a variety of optional activities, including a soccer game at Maracana Stadium, a samba show or a favela tour. Consider remaining in Rio for one or two days after your trip. Ride to the top of Sugarloaf Mountain by cable car or simply relax on the beach. You'll find plenty to see and do in this irresistible city – from mountains to rainforest to sea!