Delve into Normandy's vast and often turbulent history on a private day tour through the region. Depart from Caen to Bayeux—home to the impressive Bayeux Tapestry, which illustrates (literally) the Battle of Hastings. Then head to Honfleur, a lovely port town sporting colorful timber homes and a favorite haunt of Impressionist painters. See France's largest wooden church before stopping in Pays d' Auge. Here you have a chance to sample regional delicacies such as Camembert cheese and Calvados brandy. Cider is also ubiquitous to the area.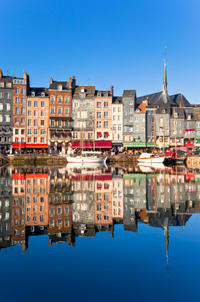 Departing in a minivan from Caen, your full-day tour of the best of Normandy starts at the magnificent Bayeux Cathedral, which dates from 1077 and was built in both Roman and Gothic styles. Bayeux was the first town to be liberated by the Allies at the end of World War Two, and it survived intact; today it boasts an impressive variety of architecture dating from antiquity to the Renaissance to the modern day.

While you're in Bayeux, you will also see the famous Bayeux Tapestry, an embroidered cloth more than 200 feet (60 meters) long. This cloth, which was originally housed in the Bayeux Cathedral, tells the story of William the Conqueror, from the build-up to the invasion of England in 1066 to the Battle of Hastings, when William defeated King Harold to become King of England. The cloth is now located in the purpose-built Bayeux Tapestry Museum.

Next, continue your tour to the port town of Honfleur, with a picturesque and colorful harbor located on an estuary of the Seine. The colors of the timber-framed homes and the quaint backstreets have inspired famous painters like Monet and Courbet. After a minute or two here, you'll realize it's no wonder that Honfleur was regarded as the cradle of Impressionism. You'll also see Saint-Catherine church, the largest church constructed from wood in France.

Finally, you'll arrive in Pays d'Auge where you'll feast your senses on the range of culinary delights found in this region. Apple-based drinks are ubiquitous here – Calvados, an apple brandy, is a solid favorite, while cider, made from fermented apple juice, was for a long time the second-most popular beverage in France, after wine. Also famous from the region is Camembert, a soft, creamy cow's cheese, first made in the 18th century in Normandy.