Soar through the air while bungy jumping or riding the Minjin Swing for an adrenaline-fueled day of high-flying fun at the Cairns Bungy Tower. Whether you are an experienced thrill-seeker or first-timer, the exhilarating aerial activities at Cairns Bungy Tower promise to make the memories of a lifetime. The professional staff ensures that you stay safe and enjoy the thrills throughout your experience. You can also enjoy views over the Coral Sea and Great Barrier Reef, and relaxing in this lush rainforest location complete with sundeck, bar and gardens.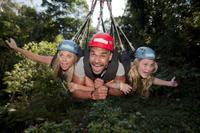 Cairns Bungy Tower has been popular ever since it opened in 1990. Choose from three options for your aerial adventures, booking either a bungy jump, Minjin Swing or combination both experiences for the ultimate thrill (see details under Itinerary below). All options include pickup from hotels in Cairns and the Northern Beaches, and transfer to Cairns Bungy Tower, located only a 20-minute drive from downtown Cairns.

The tower straddles a clear pool fed by waterfalls, and features great views of the surrounding rainforest and Coral Sea. When you're on the ground, you can hang out on the shaded viewing platforms, sun deck or grassy lawn. Purchase drinks from the bar if you wish, and enjoy the fun and relaxed atmosphere before and after your leap.
Itinerary
Bungy Jump

Head up the steps to the top of the tower where you'll meet your bungy instructor and prepare for your jump. After listening to a safety briefing, you'll put on your harness with your instructor's assistance, then step to the edge of the platform.

Take a deep breath, gather your courage and jump!, hurtling some 164 feet (50m) off the platform towards the pool below. Enjoy the initial free-fall, then perhaps dip into the water (if you choose, talk with your instructor) and bouncing up.

Once you've finished, you're picked up by an instructor who is waiting for you on a raft in the pond. Your instructor releases you from the harness and rows you to shore where you can enjoy the elation of your jump. Your package includes the jump, a t-shirt and certificate, and you have the option to purchase a video and photos of your jump for a souvenir of your thrilling day.



Minjin Swing

Experience the Minjin Swing, created as a way for one, two or three people to fly through the air together, experiencing the thrill of extreme speed and acceleration. You'll be given a safety briefing and harness equipment, then your instructor will get you safely strapped into the swing.

When ready, you'll be hoisted up above the rainforest canopy to a height of nearly 150 feet (45 meters). At the top, you'll pull the release lever to start your fall, then drop down to within 3 feet (1 meter) of the ground in just 3.5 seconds, reaching speeds of up to 75 miles per hour (120 km per hour).

After your swing has stopped, you're met by an instructor and released from the harness. Your package includes the Minjin Swing and your Minjin Swing photos on a USB, a souvenir of your thrilling day.



Bungy Jump and Minjin Swing Combo

Get the ultimate adrenaline adventure at a great price with a combination package of one bungy jump and one Minjin Swing, including an official jump t-shirt, certificate and Minjin Swing photos on a USB.