Discover the living history of Australia's indigenous Tjapukai people
with all-day admission to the Tjapukai Aboriginal Cultural Park near Cairns. Hear stories of the Dreamtime, watch a corroboree performance and take part in interactive actives such as boomerang throwing, didgeridoo playing and fire making.
Immerse yourself in traditional Tjapukai culture
during informative talks and storytelling. Hotel transport from Cairns, Palm Cove and Northern Beaches is optional.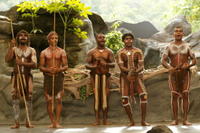 Make your way to the Tjapukai Aboriginal Cultural Park,
located a 15-minute drive from Cairns or Palm Cove, or opt for round-trip hotel transport. On arrival, you can choose from a variety of cultural activities, performances and educational talks that immerse you in the traditions of this Aboriginal group as you
interact with members of the Tjapukai community.
Learn how to throw a spear, catch a boomerang and make a fire;
d
iscover native plants and seeds used in traditional medicine
; v
iew murals depicting
the Dreamtime, watch a documentary and see artifacts on display at the Magic Space museum; and watch
professional performers bring traditional stories to life as a didgeridoo provides the soundtrack to the
corroboree
,
an Australian Aboriginal musical and dance performance.
Please see the
Itinerary
section below for a complete list of activities included with your admission ticket.
Allow a minimum of three hours to fully enjoy the offerings at the
Tjapukai Aboriginal Cultural Park.
Itinerary
Your Tjapukai Aboriginal Cultural Park general entry ticket includes the following activities:

Didgeridoo – A Journey
This unique theater experience blends the music of the Tjapukai with contemporary Australian music. Learn how to make and play a didgeridoo before watching a live performance in a state-of-the-art studio with a twinkling, starry night sky. Listen to the haunting sounds of the didgeridoo complemented by iconic images of the Great Barrier Reef, the Wet Tropics rainforest and the Australian Outback.

Hunting and Weapons Demonstration
Learn from a Tjapukai warrior about the traditional tools and weapons that have been used for over 40,000 years by the Aboriginal people.

Magic Space
See authentic stone-age artifacts, once used by the Tjapukai, on display in Tjapukai's museum -- Magic Space. Also on display are large murals by Tjapukai's foremost artists. See visual stories of the Dreamtime and watch a documentary of the impact of modern man on indigenous life over the past 120 years.

Creation Theatre
The indigenous culture is brought to life with giant holograms depicting the spirit world, which add a mesmerizing quality to the live performance of the Dreamtime stories of the Tjapukai.

Dance Theatre
A corroboree, an Aboriginal musical and dance performance, takes place in a spectacular outdoor theater, set in a natural rainforest amphitheater.

Bush Foods and Medicine Demonstration
The rainforest is a rich food source for the Tjapukai people. Learn how the land provides medicinal remedies and enjoy the opportunity to touch, taste and feel local bush food.

Spear and Boomerang Throwing
A Tjapukai warrior will show you how to use a traditional spear, and help you master the technique of returning boomerang.

Face Painting
Have your face traditionally painted with the natural colors of the rainforest.

Bibunbay Kids Program
From didgeridoo playing to bush food, stone painting and boomerang throwing, this is a unique program for children to enjoy a Tjapukai culture experience.