Short on time in Cairo, and keen on ancient history and boats? Then this private, full-day boating-theme tour packs in the sights. View the Giza pyramids and pharaonic barge at the Solar Boat Museum, and ride a 'felucca' sailboat on the River Nile. After lunch, see the boat artefacts and Tutankhamun's treasures at the Egyptian Museum before enjoying a Nile dinner cruise. Private minivan transport and round-trip hotel transfers included.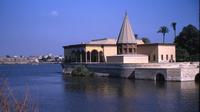 After hotel pickup in Cairo or Giza, hop inside your private, air-conditioned minivan and journey to the Giza Plateau.

Take a guided walk around the UNESCO-protected pyramids, built as pharaonic tombs about 4,500 years ago. Gaze at the Great Pyramid of Cheops as your Egyptologist guide sheds light on its history, and see the two neighboring pyramids of Chephren and Mycerinus. Capture panoramic photos of all three, and then descend from the plateau to see the Sphinx and Valley Temple.

Then, take a camel ride on the sands and wander over to the Solar Boat Museum, home to a reassembled wooden funerary barge excavated from near the Great Pyramid. View the well-preserved cedar boat, and learn how it was buried to provide Cheops with transport into the afterlife.

Next, head to the River Nile and enjoy a 1-hour cruise in a white-sailed felucca, enjoying the views of the river traffic and Cairo skyline. Then, check out the 10th-century Nilometer on the banks of Rhoda Island, learning how it was used to measure flood levels.

After lunch overlooking the Nile, visit the Egyptian Museum, home to the world's biggest collection of pharaonic antiquities. Enjoy a guided tour of the Tutankhamun collection, and animal mummy and mummy portraits rooms, and devote time to the museum's boat sculptures and artworks. If you wish, opt to visit the Royal Mummy room (additional cost), home to the mummies of some of Egypt's ancient pharaohs, including Ramses II.

Later, return to your hotel before enjoying a Nile dinner cruise this evening. Savor a scrumptuous buffet dinner as you cruise on the famous river, admiring Cairo's bright lights and watching a live belly dancing and whirling dervish tanoura show.

Your day then finishes with a hotel drop-off.