The world-famous Calgary Stampede is a unique event your whole family will love. The annual 10-day rodeo, exhibition and festival is a century-old tradition featuring authentic rodeo competitions, chuckwagon races, grandstand shows and much more. This is an amazing way to enjoy a taste of the Wild West in Alberta, Canada.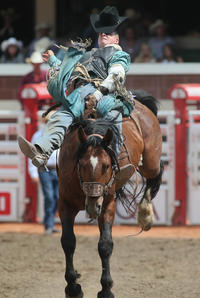 The Calgary Stampede is one of Canada's most famous events and one of the most authentic and memorable western experiences you could pack into a single vacation. Embrace the rodeo culture and become a cowboy or cowgirl during the annual 10-day, city-wide festival, which is host to the world's top rodeo, thrilling chuckwagon races, live music, an Indian village, agriculture and so much more.

In 2012, the Calgary Stampede turned 100 years old, marking a century of Wild West shows celebrating western heritage and culture. The first Stampede in 1912 captured the energy, optimism and spirit of that era, and over the years it has continued to bring people together for an incredible cultural event.

Six major events make up the daily rodeo – bareback, bull riding, barrel racing, saddle bronc, steer wrestling and tie-down roping. Add in Novice Bareback, Novice Saddle Bronc, Junior Steer Riding and Wild Pony Racing for the youngsters and you've got the best rodeo in the world.

In addition to the rodeo and/or evening show (choose your option below), your ticket includes entrance to Stampede Park, where you'll find rides and games, themed areas, food and drink stands and the Skyride that takes you from one side of the park to the other.
Itinerary
Rodeo:
Twenty of the world's top competitors in each of the six major rodeo events — saddle bronc, bareback, bull riding, tie-down roping, steer wrestling and ladies barrel racing — are meeting at the Calgary Stampede Rodeo.

Evening Show:
The GMC Rangeland Derby Chuckwagon Races. This isn't just something you watch, it's something you feel. Every evening, nine heats comprise four wagons and eight outriders in each race.