Some of Turkey's great classical sites lie close to Canakkale, but are often missed off visitor itineraries. This 8-hour trip takes you to the Apollon Smintheus mice-temple at Gulpari. Explore the remains of the temple, built to venerate Apollo and mice, and learn about its curious rodent cult. Then, view the nearby Roman ruins, and some near-finished granite pillars at two age-old quarries. Lunch, entrance fees, and hotel and port pickup and drop-off included.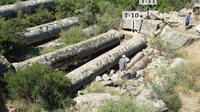 After pickup from your Canakkale hotel or Canakkale port, hop inside your air-conditioned vehicle, and travel south to the inland village of Gulpinar, near the site of the Apollon Smintheus.

Drink in views of rural Turkey on route, and hear fascinating background on the archaeological complex, and its centerpiece: the ruins of a once-grand, 2nd-century BC temple to Apollo, Lord of the Mice.

Hear how the temple was dedicated to Apollo, who became associated with smintha (mice) and wander around the crumbled temple to see its foundations and columns. Discover how the temple contained carvings depicting scenes from Homer's Iliad, as well as images of sacred mice, and hear how, in Roman times, it was reported that mice were kept under the altar for veneration.

See other nearby relics including the remains of a Roman bathhouse, water channels, and a stone-paved road that once connected the temple to the neighboring city of Alexandreia Troa.

View other artefacts excavated from the site at the small Smintheus Museum (depending on opening hours), and then continue to the villages of Kocali and Akcakecili, home to what were once ancient granite quarries.

Marvel at the colossal, near-finished Roman-era columns that still lie here, including seven 39-feet (12-meter) pillar at the Kocali quarry, and 15 near Akcakecili, learning how they were sculpted straight from the bedrock and intended for transport to Rome.

After admiring the gigantic and near-perfect pillars, your trip concludes with a drop-off back at your Canakkale hotel.