Take a day out from Canakkale to one of northwest Turkey's lesser-known treasures on this 9-hour trip to Assos at Behramkale. Travel to Behramkale to tour ancient Assos, once home to Greek philosopher Aristotle. See the showpiece Temple of Athena, whose 6th century BC columns stand above the Aegean, and explore the wider ruins before visiting other beauty spots and villages. Lunch, entrance fees, transport, and hotel pickup and drop-off included.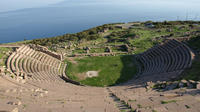 Depart your Canakkale hotel by comfortable, climate-controlled vehicle with your guide and venture south to Assos. The journey takes roughly 1.5 hours, so sit back and relax, soaking in the views of Turkey's countryside along the way.

As you travel, hear fascinating facts about the ancient city of Assos, once home to the great Greek philosopher Aristotle. Founded in the 7th century BC by colonists from Lesvos, Aristotle came to this once-flourishing harbor city in the 4th century BC, and founded a school of philosophy.

On arrival, enjoy a tour of the ruins, scattered over hills above the rustic old port of Assos. Climb up to the remnants of the Acropolis, and see the still-standing columns of the Temple of Athena, the first and only Doric temple ever built in Anatolia, and spectacularly positioned above the Aegean Sea.

Drink in the views that stretch all the way to the island of Lesvos, and learn how the temple dates from the 6th century BC. Then, check out the remains of Assos' city walls, the agora, (marketplace), necropolis (burial ground), gymnasium, and well-preserved theater.

Having explored here, break for lunch at a local restaurant, before taking in other historical treasures situated close by. Stop to view the 14th century Hudavendigar Mosque built during the reign of the Ottoman Sultan Murat I, and take photos of the beautiful Hudavendigar Bridge, constructed in the same era, and admired for its pointed central arch.

Afterward, look around the village of Behramkale, and visit other local beauty spots such as Kadirga Cove and the picture-postcard port of Assos, with its stone houses ranged along a beautiful quayside.

Your day trip then ends with a drop-off back at your Canakkale hotel.