Squeeze all the highlights of Chengdu, the Sichuan capital, into a 9-hour guided tour. This tour includes the chance to watch a traditional Sichuan opera in a classic Chinese teahouse, take a walk down bustling Jinli Street, and learn about panda conservation at the Panda Base. Hot pot lunch and round-trip hotel transportation included.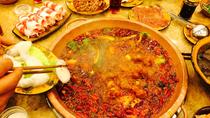 You'll be collected at your downtown Chengdu hotel around 8:30am, where you'll board a comfortable tour vehicle and head for the Chengdu Research Base of Giant Panda Breeding. 

Arrive at the research and conservation facility to meet a staff guide, who will tour you around the facility. View pandas at every stage of the life cycle and snap photos of the bears munching bamboo, rolling around, and honing their survival skills for eventual release back into the wild. 

Departing the panda base, refuel with a classic Sichuan dish, hot pot, at a local restaurant. Make like the locals and add ingredients such as seafood, veggies, meat, and spices to a bubbling metal pot. 

With a full stomach, continue to the Wuhou Temple, built in honor of the Marquis of Wu (Zhuge Liang). Wander down bustling Jinli Street, built in the style of ancient West Sichuan, including scarlet lanterns and wooden buildings. 

Your last stop of the day is a traditional teahouse in Chengdu Culture Park, where you'll witness a Sichuan opera performance featuring dancing, dialogue, puppetry, music, and acrobatics. 

You'll be dropped off at your hotel around 5:30pm.