Journey through one of China's UNESCO World Heritage Sites, Jiuzhaigou Valley, on this private, 8-hour tour. With round-trip transport included, enjoy a bus ride around the national park, and catch sight of the tranquil beauty it's known for worldwide. From the bamboo forests that line Panda Lake to the cascading falls at Shuzheng Waterfall, see just what makes this place so special. Plus 20 giant pandas call the park home, so keep an eye out for them during your tour, too.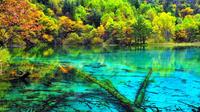 This private, 8-hour tour to China's UNESCO World Heritage Site, Jiuzhaigou Valley, starts with an early morning pickup from your Jiuzhaigou hotel before 7:30a.m. Because this is a private tour, you can choose your own group size from one to 15 people (prices vary).

Once you've been picked up, sit back in your sightseeing bus, and get ready to ride around the 278 square miles (720 square kilometers) that is Jiuzhaigou Valley. Travel through the nine Tibetan villages and three valleys. See views of the stunning scenery as you ride, including Panda Lake, Mirror Lake, Arrow Bamboo Lake, Five Flower Lake, Tiger Lake, and Rhinoceros Lake. Plus spot the Shuzheng Waterfall and Nuorilang Waterfall.

The area is also known to be home to about 20 giant pandas, so keep your eyes peeled on this tour. You might even see birds, golden monkeys, golden pheasants, and snow leopards.

After your tour ends, get dropped back at your hotel around 3:30p.m.