Get under the skin of Chennai's religion, culture, food, and art on a 4.5-hour morning walking tour. Experience a colorful prayer ceremony at the historical healing temple of Marundeeswarar, watch the ancient dance form of 'bharatanatyam,' explore an art gallery, and enjoy a typical south Indian breakfast and tuk-tuk ride. Breakfast and entrance fees included.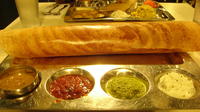 Meet your guide near Chennai's Marundeeswarar Temple in the early morning. Then, start your tour with a visit to the colorful temple.

Admire the intricate Dravidian-style architecture of this 1,200-year-old temple, and learn from your guide how it's dedicated to the Hindu deity, Shiva. Discover, too, how it's held to have healing powers, curing worshippers of sickness and disease.

Watch as locals congregate for the morning Pooja prayer ritual in worship of the Marundeeswarar Lingam, a shrine thought to have been created naturally rather than by human hand.

After the ceremony, visit a restaurant for a delicious, authentic south Indian breakfast, including a dosa, a crispy pancake made using rice and lentil batter.

Then, pay a visit to the Kalakshetra Dance Academy, a renowned Chennai arts center that teaches bharatanatyam, one of India's oldest classical dance styles. Learn about this ancient dance and its accompanying carnatic (classical music of south India) vocals and music played on instruments like cymbals, drums, and flutes.

Watch student dancers and musicians learning bharatanatyam techniques and mudras (movements), and then explore an art gallery showcasing regional art.

Finally, enjoy a tuk-tuk ride through the colorful streets back to Marundeeswarar Temple, where your tour concludes.