Start your morning right with 1.5-hour visit to the Willis Tower Skydeck, offering stunning views of Chicago and a delicious breakfast served 103 stories high. Head to the Skydeck of the cloud-piercing Willis Tower, one of the tallest buildings in the Western Hemisphere, for breakfast served 1,353 feet (412m) above the Windy City. Pick from among five morning meal options such as eggs, pastries, steak and more, and enjoy eye-opening views for 90 minutes before the Skydeck opens to other guests. Finish your breakfast in the sky by checking out the on-site displays on Chicago's culture and history.
Please note: You must make a breakfast choice at the time of purchase using the special requirement field.
Why Our Insiders Chose This Tour
The Chicago Skydeck is an iconic attraction and this is a great way to view the city without all the crowds; instead of waiting, gain early access and enjoy breakfast on the Ledge to experience a morning in the city you'll never forget!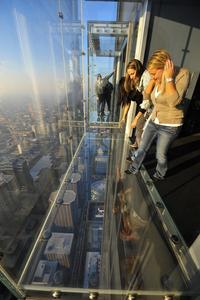 Wake up with a breakfast you're not soon to forget during this unforgettable morning meal served 103 stories above Chicago at the Willis Tower Skydeck, granting you access a full 90 minutes before the general public. Who needs coffee when you can wake up to a meal served alongside one of the world's most stunning views?
Start your Skydeck breakfast experience at either 7am or 8am, taking the elevator up the 100+ stories of the Willis Tower to the Skydeck observatory to start your meal. Upon arriving at your sky-high breakfast site, follow your host to your table set out on the Ledge, a collection of four transparent-glass balconies 1,353 feet (412m) above the city below. Get situated as you stare in amazement at the incredible views of the city and Lake Michigan stretching out below you.
Then dig into your pre-selected breakfast choice. Depending on what you pick, you'll enjoy delicious pastries, eggs, fruit and more (see the Itinerary for menu details) during a relaxed meal. Best of all, you get to do it in relative peace and quiet, thanks to your early access a full 90 minutes before the Skydeck opens to the general public.
When you finish breakfast, take some time to absorb the Skydeck's fascinating exhibits on Chicago architecture and trivia, or simply spend your time gazing at the incredible views of Chicago down below.
Note: Please make your breakfast selection at time of checkout.
Itinerary
Menu:
American Breakfast
Breakfast pastry basket, fresh fruit martini, scrambled eggs, crisp bacon, sausage links & O'Brien potatoes
Farmer-Style Breakfast
Breakfast pastry basket, seasonal fresh berries, omelette with choice of mushrooms, onions, green peppers, cheese and ham served with home-style fried potatoes
Healthy Lifestyle Breakfast
Fresh fruit martini, Egg Beater frittata with choice of mushrooms, spinach, onions and peppers served with roasted tomato salsa, multi- grain toast & turkey sausage
Skyline Breakfast
Breakfast pastry basket, minted citrus sections, grilled sirloin steak, scrambled eggs with chives and home fries
French Breakfast
Croissant basket, yogurt, fruit and granola parfait and choice of Quiche Lorraine or spinach quiche served with lyonnaise potatoes

All breakfasts include brewed regular and decaffeinated coffees, tea and fresh-squeezed juices.