Bring the kids to Chicago's LEGOLAND® Discovery Center for a day of brick-building adventure. With 30,000-square-feet of space this family-friendly attraction has activities for everyone: from an interactive pirate-themed playland to a factory tour where you can actually see how LEGO bricks are made. There's even a mini replica of famous Chi-town landmarks made from nearly 2-million LEGO pieces.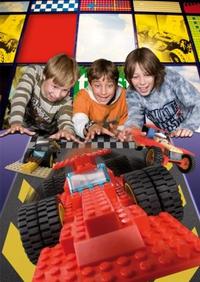 LEGOLAND Discovery Center Chicago combines LEGO model building and unusual construction challenges with theme park-like attractions such as the Merlin's Apprentice, Kingdom Quest, Jungle Expedition, and "Clutch Powers 4D Adventure" 4D cinema incorporating fantastical LEGO creatures and LEGO-based special effects.

Please note: As a children's attraction and to promote a safe and family-friendly environment, adults cannot enter without being accompanied by a child.
Itinerary
Attractions:

MINILAND Chicago
Features famous Chicago landmarks built from almost 2 million LEGO bricks! Highlights include Willis Tower, Navy Pier, Buckingham Fountain and the Wrigley Building. The LEGOLAND Discovery Center Model Builders updates MINILAND seasonally, so there's always something new and exciting.

LEGO Jungle Expedition
Trek into our LEGO jungle and come face to face with some incredible life-size LEGO jungle animals! From tigers, to hippos and monkeys, follow the quiz trail to help you learn fun facts about our LEGO jungle friends. The Jungle Expedition is also a great place to take family photos.

Kingdom Quest Laser Ride
Armed with your laser zapper, ride through the forest in your dragon car and help destroy the skeleton army! You get points for each skeleton and troll that you zap and there are also bonus targets to really help boost your score! Your individual points tally is recorded on your dragon car so you can compete with your friends and family to see who gets the highest score. Fun souvenir photos from the ride are available for purchase. You may ride as many times as you like as the ride is included in your standard admission price.

Master Builder Academy
The LEGO Master Builder Academy is where kids can learn building tips from the LEGOLAND Discovery Center model building team. Classes last approximately 25 minutes and during the workshop you are taught how to build a specific LEGO model. The models change seasonally and there is the option to purchase your model at the end of the class. Space is limited in the workshop, so during busy periods be sure to sign up to guarantee your spot.

LEGO Factory Tour
Enter the LEGO fun factory and learn all about how LEGO bricks are made. Professor Brick-a-Brack will take you through each step of the brick creation process, starting with the plastic granulate, all the way through to printing and distribution. Kids will also get a special souvenir LEGO brick to take home with them.

LEGO Studios 4D Cinema
Our movie theatres take the fun of 3D and add special effects, like wind, rain and snow, so that you really feel like a part of the story! We show two different movies in the theatre – LEGO Clutch Powers and LEGO Legends of Chima. Both movies are family friendly and run for approximately 15 minutes. The movies run on rotation throughout the day, so make sure you catch them both! You don't need to make a reservation for the theatre, and the movie is included in the standard admission price.

Merlin's Apprentice Ride
This is a fun pedal bike ride – as you go round in circles, pedal as fast as you can to fly up in the air. As soon as you stop pedaling, you'll fly straight back down! This is a family friendly ride, and is especially popular with younger children. You can go on the ride as many times as you like, and the ride is included in the admission price.

LEGO Racers Build and Test
The Build and Test zone is at the heart of the LEGOLAND Discovery Center. Here children can build and create their own LEGO creations from a selection of thousands of LEGO bricks and wheels. Race your car down the race ramp, or take part in one of our fun LEGO building challenges – there are always prizes on offer for the best LEGO creations!

LEGO City Construction Site
The LEGO City jungle gym is the perfect place for kids to burn off some excess energy! As well as climbing slopes and slides, the jungle gym also features soft LEGO bricks which are perfect for building big walls and houses.