Discover the buzzing metropolis of Chongqing with this half- or full-day tour and make the most of a private guide and flexible itinerary. Look out over the Yangtze and Jialing rivers from the mountaintop Eling Park, then learn more about the city's fascinating history at the Chongqing Museum. On a full-day tour, including lunch, you'll also have chance to tour the General Joseph W Stilwell Museum, see the beautiful Arhat Temple, and get up close to pandas at Chongqing Zoo.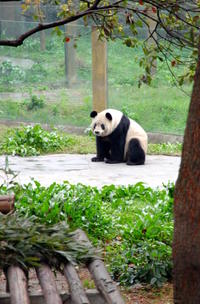 You'll be picked up from your Chongqing hotel and taken by private air-conditioned vehicle on a tour to the city's top attractions. Your expert local guide will explain how Chongqing, a major port, is called 'Mountain City,' as it lies at the intersection of the Yangtze River and Jialing River.

Morning Half-Day Tour:
Get a great view of both these rivers at Eling Park, which was built as a private garden in 1909 and is located on Eling Mountain. Discover how this mountain attained its former name of Goose Nape Hill – its narrow shape resembles the nape of a goose's neck.

Next, head to the top of Pipashan (Pipa Mountain) for a tour of the Chongqing Museum, featuring more than 40 exhibit halls displaying 100,000 relics spanning more than 3,000 years of history. With your guide, browse interesting cultural and artistic antiques including bronze wares, pottery, paintings, porcelain and sculptures. You'll then return to your hotel in the afternoon.

Afternoon Half-Day Tour:
After hotel pickup, head straight to the General Joseph W Stilwell Museum, founded in memory of the American general who contributed a great deal, politically and militarily, to the Chinese people. This three-story museum is actually Stilwell's former residence and headquarters, and in the courtyard, you'll see an engraving of a speech by American president Franklin D Roosevelt.

Your next stop is Arhat Temple, whose location is a bit of a surprise; wedged tightly between skyscrapers and apartment blocks, this 1,000-year-old Buddhist temple and monastery is a place of worship and home to 18 monks. As you approach the entrance, you'll notice hundreds of terracotta sculptures. Step inside with your guide and walk around for a glimpse into this region's religious culture.

Finally, get a taste of Chinese wildlife on a visit to the Chongqing Zoo, where you'll see adorable pandas! You'll be taken back to your hotel in the evening.

Full-Day Tour:
Choose the full-day tour and enjoy all of these activities, including a lunch of traditional Chinese specialties before continuing your tour to the General Joseph W Stilwell Museum. Hotel drop-off is included in the evening.