Immerse yourself in the Inca's ancient and modern culture with a 5-day visit to the historic city of Cusco and the amazing mountaintop citadel of Machu Picchu. First explore Cusco's rich colonial architecture and fascinating Inca traditions, stopping at Inca sites like Saqsayhuaman and Koricancha. Then spend the day at Machu Picchu, touring its incredible buildings and temples. Spend your final day exploring Moray, home to both an ancient agricultural site and an Andean textile center. Here you can watch traditional dyeing and weaving demonstrations as well as purchase souvenirs.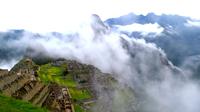 Take a journey into the heart of the ancient Inca Empire during this 5-day trip including Cusco, the surrounding Sacred Valley and the incredible mountain city of Machu Picchu. This multi-day excursion through the top sites of the Incas and the iconic city of Cusco is the perfect introduction to this celebrated ancient civilization.
Start your adventure after arriving at the Cusco airport your first day between 10am and 12pm. Continue on an exploration of the former colonial capital and one-time center of the Incan culture at Cusco during days one and two. Explore the city's intriguing museums and stop by some of its most important Incan religious and political sites, including Saqsayhuaman and Koricancha.
Head on day three to the UNESCO World Heritage Site of Machu Picchu, where you'll arrive at sunrise to explore this masterpiece of ancient engineering and design with your guide. On your fourth day stop by the fascinating archaeological site of Moray, where you'll discover the innovative farming practices of the Inca and learn about their scientific acumen. Finish in the small town of Chinchero near Cusco, where you'll have time to explore the beautiful Andean textile traditions at a traditional weaving center. On day five, return to the airport in Cusco for a flight back to Lima.
Itinerary