Get a firsthand look at how Peruvian textiles are made with a visit to the Awana Kancha textile center. On this half-day cultural tour from Cusco learn how the furs of llamas and guanacos are transformed into stunning handcrafted works. You can even purchase some if you like. On the drive back make a stop at San Blas, one of Cusco's most picturesque neighborhoods. Round-trip transport is included.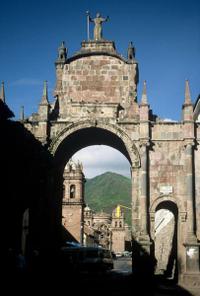 Before or after your visit to Machu Picchu, explore more of Cusco on this morning tour to the Awana Kancha textile center and the historic neighborhood of San Blas.

In a city known for its various types of native llamas, Awana Kancha produces one-of-a-kind textiles made from their fur. See the process the llamas and other animals, including alpacas, vicuñas and guanacos, go through to produce these luxurious textiles, and purchase any that catch your eye. The vicuña and guanaco are prized for their fiber - the vicuña being Peru's national animal and the guanaco's fiber being compared to cashmere.

Next, travel to San Blas, a quaint, historic barrio (district) in central Cusco. Wander through its narrow cobblestone streets that date back to the 16th and 17th centuries, admire the colorful ancient architecture and stroll in and out of the shops. San Blas is also home to the oldest parish church in Cusco, which you can tour with your guide.

After exploring San Blas, your guide will escort you in your air-condition van back to your hotel in Cusco around noon.