The greater Cusco region is known for its vast historical and archeological sites. Set out on a half-day tour to explore them. You'll visit Tipon, home to an ancient Inca agricultural system, and tour the ruins of Piquillacta, once inhabited by the Wari people. Your trip also includes a visit to the church of San Pedro de Andahuaylillas, filled with colorful murals.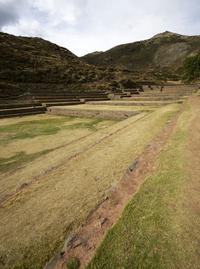 After hotel pickup, your day will begin with a tour to neighboring Tipon, a beautiful complex of agricultural terraces, long stairs and stone canals. These terraces and aqueducts were built over 500 years ago by the Incas and are still used today for agricultural purposes.

After Tipon, you'll visit the pre-Inca archaeological site of Piquillacta, the epicenter of the Wari culture. The Wari dominated a large part of Peru before being absorbed by the Inca Empire.

Your last stop will be at the colonial church of San Pedro de Andahuaylillas. Built at the beginning of the 17th century, the interior of this church is decorated with polychrome ceilings, numerous paintings from the Cusco School, a majestic organ, as well as intricate silverwork and baroque altars. At the end of the tour, you'll be transported back to your Cusco hotel.