Experience Bedouin hospitality in a desert camp on a 4WD and camel tour from Dahab that includes hotel pickup and drop-off, a camel ride, and dinner. Visit the Bedouin camp for the evening on a 2.5-hour tour, or opt to spend the night in the desert for an unforgettable evening beneath the Sinai stars.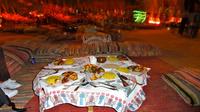 Start with pickup at your Dahab hotel a 5:30pm, and leave the coast in a rugged, four-wheel-drive vehicle for the trip into the desert. When the sand runs into the Sinai mountains, trade the 4WD for a camel, then ride 45 minutes through the mountains, arriving at the camp in time for a desert sunset (varies with the time of year).

Upon arrival at the camp, take a seat around a blazing fire, where you'll enjoy a traditional welcome glass of Bedouin tea, a sweetened blend of black tea and desert herbs, served hot and frothing in tiny glasses. Watch the first stars appear over the sand as your hosts prepare fresh bread over the open fire, serving it alongside rice and a traditional dish made with locally-sourced ingredients. Water and soft drinks are included with the meal, and you'll be invited to try a Bedouin-style shisha pipe.

If you're experiencing the camp as a day trip, you'll depart the camp at 7:30pm in the 4WD vehicle, and finish the night with drop-off at your hotel at 8pm. Overnight guests have the chance to watch the stars and planets late into the night, enjoying the quiet of the fire and the Sinai Desert. In this case, a driver will return you to your Dahab hotel at 8am the following day.