Enjoy a rare chance to visit the Tiwi Islands and witness an Aboriginal community that holds on tightly to its traditions. Located off the coast of Darwin, the Tiwi Islands experience is led by an indigenous guide who shares local history and traditions. Visit a Tiwi museum and art center, and either join Aboriginal artists for an art-making workshop, or partake in a traditional morning tea with Tiwi Islanders. You can also shop for Tiwi paintings, fabric, carving, pottery and clothing at island prices (own expense).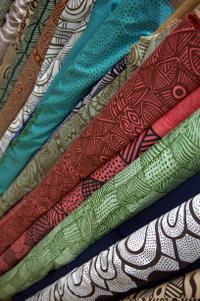 Travel two hours by ferry from Darwin to Bathurst Island, one of the Tiwi Islands. Seating is available on an outside sun deck or in and air-conditioned indoor cabin. Sandwiches, snacks, soft drinks and water are available for purchase on board, and there are limited food options on Bathurst Island. Keep an eye out for wildlife such as sea turtles, dolphins and seabirds. The Tiwi Islands provide important breeding grounds for a variety of native Australian animals.

Choose from two itineraries below to tailor the tour to your interests. A local indigenous guide accompanies you on your tour, which includes a scenic walk and visits to an art center and museum. At the end of the tour, your guide returns you to the ferry dock for the trip back to Darwin.
Itinerary
Option 1: Art Centre and Museum
Start your day by visiting the Aboriginal community of Wurrumiyanga. Your guide accompanies you to the local museum, and provides commentary on the displays of traditional art and the depictions of Tiwi dreamtime stories.

After touring the museum, follow your guide to the site of the island's early mission. Hear stories about the history of the area as you walk around the Catholic church.

Next, stop by an arts and crafts center to get a glimpse of artists at work. You can purchase Tiwi arts and screen-printed fabrics (own expense). At your next stop, a Tiwi burial site, learn about the rituals of the Pukamani ceremony, which includes placing funerary poles decorated with painted mythological figures around a grave. Your guide can answer any questions you may have about the burial process.

Lunch is not included, but you can purchase food on the ferry or bring a packed lunch with you. There are limited options to purchase food on the island.

Option 2: Cultural Workshop
After the ferry ride, you'll meet your indigenous local guide on Bathurst Island and be greeted by a short 'Welcome To Country' ritual. You'll then chat with locals over a traditional morning tea consisting of tea and damper (soda bread cooked in a campfire).

After tea, your guide will show you through the museum and share detailed commentary on the culture and history of the Tiwi People. Then return to Tiwi Design for your art workshop and included lunch. Founded in 1968, Tiwi Design now hosts about 100 artists who work in screen printing, pottery, carving and painting. The complex includes an administrative center and art gallery that aim to preserve and showcase Tiwi culture.

Spend the afternoon working with an Aboriginal artist to create your own artwork Tiwi–style. Depending on the artists in the center at the time, this could be either painting, carving or screen printing. Afterwards, you can take home your creation as a memento. You can also purchase traditional Tiwi artworks including paintings, fabric, carving, pottery and clothing (own expense).