Take time out from Datong to see two of north China's historical highlights on this private 8-hour Yungang Grottoes and Hanging Monastery tour. View the 5th-century Yungyang Grottoes, a series of rock-cut caves filled with Buddha statues. Plus, check out the Hanging Monastery, whose ornate medieval temples are suspended from a cliff face. Learn about both sites from a private guide on a tour that includes a Chinese lunch, entrance fees, and private transport.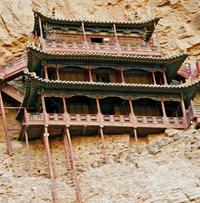 Depart your Datong hotel with your guide and driver, and begin your 8-hour tour by private, air-conditioned vehicle. Sit back and take in the views of rural northern China and the Wuzhou Shan mountains as you journey toward the UNESCO-listed Yungang Grottoes.

On route, hear intriguing facts about this historical wonder from your guide. Dating from the 5th century, the site features 252 cliffside grottoes and niches filled with thousands of hand-carved Buddha statues, making it a masterpiece of Buddhist cave art.

On arrival, tour the grottoes that spread just over half a mile (1 kilometer) from east to west. Admire the largest, 55-foot (17-meter) Buddha in the fifth cave, and enter some caverns to admire the Buddha figurines, and colorful wall murals and decorations.

Break for a Chinese lunch at a local restaurant, and then travel onward to the Hanging Monastery, built into the Hengshan Mountain, south of Datong.

The only existing monastery dedicated to all three religions of Buddhism, Taoism and Confucianism, this incredible structure was originally built about 1,500 years ago, and hangs from a sheer cliff face about 246 feet (75 meters) above the ground.

Topped by ornate upswept roofs, this monastery is supported by crossbeams driven into the cliff, and consists of 40 rooms connected by corridors and bridges, and filled with about 80 bronze, iron, and clay statues.

Admire the building from below or, if the monastery is open on the day, climb the steep steps to explore the walkways and chambers. Drink in the stunning views from the cliff face, and see the rock overhang above that shelters the temples from the worst of the elements.

After admiring the monastery, drive back Datong where your tour ends with a hotel drop-off.

Please note: the Hanging Monastery is occasionally closed for renovation or repairs. If this is the case on your tour, you will not be able to climb up to the rooms, and your visit will involve viewing the buildings from the ground.