Set sail for the lush rainforest, rocky coves and palm-lined beaches of the Mamanuca and Yasawa Islands on this 4-day Fiji Island cruise. Visiting two different locations each day, you'll have plenty of opportunities for swimming, snorkeling and scuba diving (extra cost), plus the chance to tour local villages or explore the coast on a glass-bottom boat. This small-ship cruise includes on-board accommodation, meals and facilities including a swimming pool, mini-gym and day spa.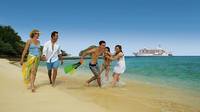 To the northwest of Fiji's main island, Viti Levu, lie two archipelagos – the Mamanuca Islands and the Yasawa Islands. On this 3-night small-ship cruise, discover what makes each group so unique, from the Mamanucas' low-lying isles with palm-fringed beaches to the Yasawa Islands' dramatic rocky landscapes and pristine lagoons. Both groups are home to some of Fiji's most untouched locations.

Your cruise starts as you depart Port Denarau in the afternoon on Day 1. From the moment you step on board, the fun begins! Cruising is done at night or during meal time so that your days can be spent exploring the beaches and villages of these magnificent islands. All snorkeling equipment is included, as well as glass- bottom boat and village tours. You have the freedom to do as much as or little as you choose – you can even go scuba diving if you wish (at an additional cost, payable on board).

The ship has 65 air-conditioned cabins, staterooms and suites, all with private bathrooms. Cabins are located on the lower deck (D Deck) and are approximately 150 square feet (14 square meters). They open to an inside passageway and have portholes. Twin-bed, double-bed and bunk-bed cabins are available. Staterooms, also approximately 150 square feet, are located on the main decks (B Deck and C Deck) and have either two twin beds or one double bed. They have two windows and open onto an outside deck. The Tabua Suites are located on the top deck (A Deck) and are approximately 300 square feet (28 square meters). Each Tabua Suite features a twin or double bedroom with separate lounge area and a second bathroom.

Facilities on board include a swimming pool, two spa baths, sun deck, mini-gym, glass-bottom boat, snorkeling and diving vessels, two bars, two lounges, single-sitting dining saloon, day spa, gift shop, chart house, library, guest laundry and 24- hour self-service coffee and tea bar.