Island-hop your way around Fiji on a leisurely 6-day tour by high-speed catamaran. A professional crew takes you to three stunning island locations with overnight stays in the Yasawa and Mamanuca islands, where palm-fringed beaches, sea breezes and fun-filled activities await. You can opt to go kayaking, swimming into sea caves, snorkeling in the Blue Lagoon, or simply lounge in the sun. Select budget or standard shared dormitory accommodations, or upgrade to stay in a traditional Fijian bure. Cruises depart from Denarau Marina with round-trip transfers included.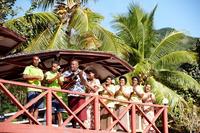 This 6-day Yasawa and Mamanuca island-hopper takes you by high-speed catamaran to your own piece of paradise. You'll stay overnight on three idyllic isles and soak up typical Fijian hospitality. Select from an array of amazing activities, including a seasonal manta ray swim! Enjoy the ease of round-trip transfers from surrounding islands to Denarau Marina, where your tour departs. It's a not-to-be-missed island adventure!
Itinerary
Day 1: Port Denarau – The Blue Lagoon (B,L,D)
Depart Port Denarau and cruise on board the legendary Yasawa Flyer catamaran to the spectacular Blue Lagoon region. When you arrive at Nacula Island and step onto the white-sand beach, you'll immediately feel a sense of calm and relaxation.
Overnight: Budget: Gold Coast or Long Beach Resort; Standard: Nabua or Safe Landing Resort

Day 2: Blue Lagoon (B,L,D)
Wake up to the refreshing sea breeze on your second day and savor your little slice of island paradise. Take your choice of visiting the amazing Sawa-i-Lau Island and swimming through the underwater caves, or take a snorkeling trip to the stunning Blue Lagoon. If you'd rather just relax, indulge in a free island massage.
Overnight: Budget: Gold Coast or Long Beach Resort; Standard: Nabua or Safe Landing Resort

Day 3: Central Yasawa Islands (B,L,D)
On your third day in paradise, explore the waters by kayak or take a snorkel trip around the islands before boarding the cruiser to island-hop to Naviti or Drawaqa Island. You will be welcomed warmly by your Fijian hosts and gain a unique insight into local life with a two-night stay at a family-run property.
Overnight: Budget: White Sandy Beach; Standard: Korovou Eco-Tour Resort or Barefoot Manta Island

Day 4: Central Yasawa Islands (B,L,D)
Today, snorkel or dive at spectacular reef sites bursting with fish and coral or take a Fijian cooking class and learn the secrets of a traditional Fijian feast! From May to October, you'll have the opportunity to swim with manta rays – the giant butterflies of the sea! Although there is no guarantee that you will see them if you do, it'll be an experience of a lifetime! During November to April, you can take a snorkel trip to spectacular reef sites.
Overnight: Budget: White Sandy Beach; Standard: Korovou Eco-Tour Resort or Barefoot Manta Island

Day 5: Mamanuca Islands (B,L,D)
Enjoy time in the morning to explore, swim or lounge in the sun. Then, board the cruiser and head to South Sea Island or Beachcomber Resort. These smaller islands are big in character, offering some of Fiji's most amazing coral reef areas - perfect for snorkeling and diving!
Overnight: Budget: Beachcomber Island Resort or South Sea Island; Standard: Beachcomber Island Resort

Day 6: Port Denarau (B,L,)
Your last day in paradise to revel in the calm tropical atmosphere of palm-fringed beaches, clear blue waters and hammocks swinging in the breeze. You can return to Denarau whenever you choose, so feel free to have another cocktail! Or, end your vacation in style with a sailing adventure aboard the Seaspray and visit the island where the movie Cast Away was filmed. Meet the locals and join in a traditional kava (Fiji's national wine) drinking ceremony and enjoy morning and afternoon tea, and a barbecue lunch with beer and wine!

Budget:
The budget accommodation is basic, but the beautiful locations will surely make up for lack of amenities! Bedding is provided, but you will need to bring you own towel(s) and soap. Meals are included in the price. There is no hot water or air-conditioning available.

Standard:
A higher level of accommodation with more amenities than the budget option, standard room bures (traditional Fijian huts) have a fan or air-conditioning. All meals are included except at Barefoot Manta Island FJ$168 to be paid direct to resort. No other dining options are available.