Let your child explore their creativity and independence on a visit to Dubai's KidZania, a replica kids' city of fun role-playing adventures. Head into the kid-sized city with your child and watch as they play-act real-life professions such as being a pilot, chef, police officer, beautician, journalist or other jobs, learning real-life skills as they go. As they work, they earn 'kidZos' money to spend at KidZania's shops and establishments, giving them a taste of grown-up life. A safe, entertaining and educational role-playing experience for kids aged between four and 16 years.
Highlights
Adult and child entrance ticket to KidZania in Dubai
Explore KidZania's scaled-down city of 80 role-playing adventures at replica academies, shops and other establishments
Let your child train as a firefighter, police officer, pilot, TV newscaster, DJ or other professional
Kids earn 'kidZos' for their work and can spend them at KidZania's establishments or save them at the bank
Safe, fun and educational environment to inspire your child's confidence and creativity
Teaches children essential life skills, including team work, communication and independence
Role-playing activities available for kids aged four to 16 years
What You Can Expect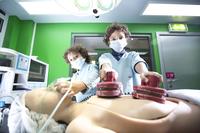 Travel independently to KidZania in Dubai, show your ticket and head inside. Then, let your youngster enjoy the kid-sized world of fun and role-playing at leisure.

Stroll around the replica streets and let your child choose from over 80 role-playing experiences at the city's academies, shops and establishments. There's everything from a scaled-down hospital and fire station to an airport, theater, restaurants and more, so they can play out being a pilot, firefighter, radio DJ, chef, surgeon, newscaster or other role, all guided by trained supervisors.

As your child tackles the professions, they earn kidZos — KidZania's currency — to spend at KidZania stores or play areas, or save for future visits. On their first KidZania visit, a child can open a personal savings account at the KidZania bank. They can then save their kidZos and receive a debit card to be used at the city's ATMs.

Parents can explore KidZania with their child and watch them role-play from outside the establishment. If your child is over 120cms in height, you can leave them to enjoy KidZania as you relax in the parents lounge, with TV, Internet access and a café. For younger siblings, there's a toddler-friendly play zone to keep them happy and occupied.

Please note: Adults must be accompanied by at least one child to enter KidZania. Children above 120cms in height can be left alone inside KidZania. However, in this case, an adult or guardian (17+) must be present at the KidZania entrance to check them in. Children under 120cms in height must be accompanied by an adult/guardian (17+) at all times inside KidZania.