Enjoy a piece of Florida that many miss on their beach vacations during a 3 day kayaking and camping tour of the Everglades with an experienced naturalist guide. Paddle leisurely through the wetlands with fellow nature lovers to see native wildlife such as manatees, sea turtles, dolphins, herons and eagles. Camp for two or three nights on islands within Everglades National Park or the Ten Thousand Islands; all meals, camping and kayaking equipment are provided.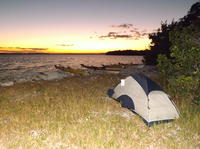 After booking, you will receive a checklist to help you pack for your 2 night kayaking and camping adventure. All safety gear, meals and kayaking and camping equipment are provided, so all you need are your personal items. Rest assured that you will be in good hands with your experienced guide, who has in-depth knowledge about the Everglades area and its unique, diverse ecosystem.

The wild environment changes daily with the weather, seasons and stages of the moon, and your guide knows how to safely conduct tours around these conditions. Your safety and comfort are very important to your guide, and state-of-the-art safety, navigation and communications equipment are carried at all times. Your tour is equipped with GPS units, VHF marine radios, satellite tracking devices and cell or satellite phones.

Your exact tour itinerary is decided on your start day, as the Everglades area offers a large range of routes. Each kayaking tour is adaptable and varies depending on the time of year, weather conditions, campsite availability and the preferences of you and the other tour participants. After booking, the local tour operator will contact you to talk about your expectations prior to the tour. Discuss possible camp sites — there's the option to camp at the same place all nights or move to different spots. Already familiar with the area? You can tell your guide about past trips and whether you'd like to return to a favorite spot or discover somewhere new.

Since this is not a private tour, the preferences of all group members are considered so your guide can plan the best itinerary to suit every participant.

All meals during the tour are included. Enjoy breakfasts and dinners around campfires, and keep your energy levels up with packed lunches (provided by your guide in the mornings).
Itinerary
Day 1: Launch and paddling to campsite (L, D)
Meet your guide and group at the Everglades Welcome Center in the early morning. After introductions, your tour starts with a drive to the launch site, where you'll hop in your kayak and push off into the water. Launch sites change based on daily conditions, but you'll most likely launch from a location on Marco Island, Chokoloskee Island or near Everglades City.

Follow your well-trained guide on a predetermined route through Everglades National Park or the Ten Thousand Islands. The morning departure allows you to paddle with the tide — not against — to your first campsite. As you follow your guide, keep your eyes out for native wildlife. Your guide is a Mother Nature expert and will help you spot animals both in and above the water, such as manatees, dolphins, turtles, herons, egrets and eagles. On some tours, there might even be a sighting of wild hogs and black bears.

As you make your way to your campsite, stop off on islands to stretch your legs or relax on the beach. When you arrive at your campsite, help your guide and group set up tents. Once the hard work is done, watch the sunset and enjoy a campfire dinner prepared fresh by your guide.

Overnight: Campsite in Everglades National Park or the Ten Thousand Islands National Wildlife Refuge

Day 2: On the water (B, L, D)
Wake up to peaceful morning sounds of the Everglades, and enjoy breakfast around the campfire. Then, pack up and load your equipment, and get ready for another wonderful day of kayaking.

Your guide will again lead you to your second campsite, stopping off along the way for photo opportunities, lunch and exploration.

Overnight: Campsite in Everglades National Park or the Ten Thousand Islands National Wildlife Refuge

Day 3:
Return to launch site, if 3-day tour selected (B, L)
Enjoy another morning in the wilderness, and then board your kayak and paddle to your designated return point.

Your 3-day experience comes to an end as you return to the original starting point in the afternoon.