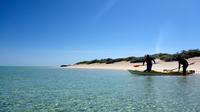 After pickup from your centrally located Exmouth accommodation, set out on a scenic drive to Cape Range National Park, your home base for the 5-day tour.

Spend 5 days kayaking, snorkelling and bush walking up the Cape Range National park. The base camp where you'll stay each night is a secluded spot deep within the National Park that has its own private beach and enjoys separation from other camp sites. Swags, tents, sleeping bags are all provided to ensure maximum comfort and enjoyment. The base camp is also equipped with a refridgerator lights and freezers to keep drinks and foods cool.

Ningaloo Reef is one of the Earth's last ocean paradises. Situated 800-miles (1300 km) north of Perth it boasts some truly stunning marine ecosystems. The reef is 200-miles (320 km) long and is Australia's largest fringing coral reef and the only large reef positioned very close to the mainland. It can range from 150 metres to 15 kilometres offshore and encompasses a massive 5,000 square kilometres of ocean with 500 species of tropical fish and 220 species of coral in all. Ningaloo Reef is famous for swimming with whale sharks, its superb snorkelling, diving and sea kayaking, and warm shallow waters.



Once this leg of your journey is complete enjoy a night of luxury at the 4.5 Novotel Ningaloo Resort to unwind and relax. The next morning begins another exciting adventure swimming with the whale sharks and exploring the outer reef. In the evening relax and enjoy a group dinner at one of the finest restaurants in town before returning to the Novotel Ningaloo Resort.

Included is all sea kayaking gear, snorkelling gear, camping gear, food, transport and entry fee into Cape Range National Park, 2 Nights at 4.5 Star Novetel Resort and 1 Day Swimming with the Whale Sharks.

Base Camp
The base camp kitchen trailer is equipped with gas cookers, fridge, eskis, awnings, chairs and tables, all the gear we need for comfortable camping. You'll camp out in swags or tents beneath the stars. Over the 5 days you'll paddle most of the coastline of Cape Range National Park. At the end of each day, you travel by road back to the base camp.