Discover Freeport at your own pace with a Get-A-Round bus pass that makes transportation simple when you arrive on Grand Bahama. Browse shops at the International Bazaar, stroll the Port Lucaya Marketplace then get a glimpse of daily life in the city's bustling downtown. Enjoy unlimited access to an air-conditioned tour bus that makes regularly scheduled stops, and discover all of Freeport's highlights.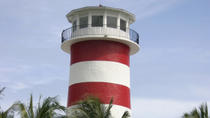 After you arrive in Freeport and collect your pre-paid pass, the island is yours for the exploring. This pass is good for unlimited rides over the course of a week, allowing you to travel conveniently around the island of Grand Bahama. 

Climb aboard the air-conditioned bus at any one of the stops and present your shuttle pass. Consult your provided bus schedule for stops and times. Stops include the downtown Freeport area, the Port Lucaya Marketplace, the International Bazaar and many island hotels.