Make the most of time in Guangzhou to visit Xi'an, home to the world-famous Terracotta Army. This 14-hour trip by air makes it possible to see the UNESCO-listed clay army and other highlights in one day. Take in the 8,000-strong sculptures carved in the 3rd century BC, and visit Xi'an's ancient city walls and Big Wild Goose Pagoda. Return flights, entrance fees, hotel and airport transfers, and delicious dumpling lunch included.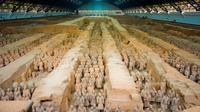 Start your private tour with an early morning hotel pickup from Guangzhou city, and transfer to the airport for your flight. Then, on arrival at Xi'an airport, meet your guide and travel by private vehicle to the world-famous Terracotta Warriors Museum.

Enjoy a privately guided tour of the excavated pits where the UNESCO-listed sculptures were discovered in 1974. Learn how the clay army was created in the 3rd century BC to protect Qin Shi Huang, China's first emperor, in the afterlife, and then buried near his tomb.

Marvel at the estimated 8,000 life-size soldiers, grouped by rank and in battle order. Take in the individual details of their faces, uniforms, and weapons, and learn from your guide how they were individually carved and assembled, and originally painted in bright pigments.

Next, enjoy a scrumptious buffet lunch at the highly renowned De Fa Chang restaurant in Xi'an, selecting from a vast array of dumplings and other regional dishes.

Continue into the Old City of Xian, once one of the four great capitals of China. Here, stroll on the ancient city wall, one of China's oldest and best preserved, and dating from the time of the Ming dynasty in the 2nd century BC.

Afterward, pay a visit to Xi'an's other must-see; the Big Wild Goose Pagoda. Originally constructed in 652 during the Tang Dynasty to store sacred Buddhist figurines and scriptures brought from India, this 7-story tower was built without cement.

Having seen Xi'an's three principal treasures, take a look around the city's old Muslim quarter before returning to Xi'an airport for your flight back to Guangzhou.

On arrival, enjoy a transfer back to your hotel, where your tour ends in the late evening.