Embark on an exotic culinary adventure with this 5-hour small-group cooking class in Antigua, including hotel pick-up. Master expert techniques and local ingredients to create typical Guatemalan dishes like 'hilachas', tamales and 'camote en dulce', under the watchful eye of a professional chef. After tasting your creations over lunch, leave armed with recipes and cooking tips to help you recreate your favorite dishes back home.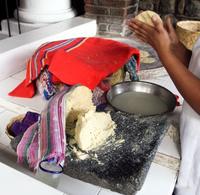 Experience Guatemalan cuisine at a cooking class in Antigua! Taste the unique flavors of Guatemalan foods and learn about the interesting mixture of traditional Spanish and local Mayan influences on the country's cuisine. Guatemalan favorites include various types of tamales and chiles rellenos.

After pickup from your Guatemala City hotel, head to your Guatemalan cooking class in Antigua. After a brief kitchen safety overview, your expert chef will start by teaching you about the Spanish and Mayan cultural influences on Guatemalan flavors. Learn about the staple ingredients and foods used by natives, including corn, peppers and beans. For your own meal, you'll get to prepare one main dish, such as hilachas, two side dishes and one dessert, including camote en dulce or mole de plátanos.

As you create your meal, the chef will be there to offer helpful guidance. Once you're done, it's time to enjoy your home-cooked lunch! After you savor your traditional Guatemalan meal and dessert, you'll be transported back to your Guatemala City hotel.