While visiting the town of Childers in Queensland, take a one-hour tour of Ohana Winery and Exotic Fruits that includes a tour of the fruit orchard. You'll get to sample the farm's fresh fruit, then sip a range of wines and liqueurs during a wine tasting with a winemaker.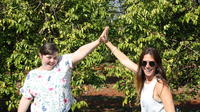 Make your own way to Ohana Winery and Exotic Fruits and start your tour with a look at the fruit orchard.

During the orchard tour, you can taste any in-season fresh fruit, and learn how they grow more than 50 fruit species that originally come from places around the globe. Next up, join the winemaker at the working cellar for a wine tasting. Try several of Ohana's different fruit wines, ports, liqueurs, and specialized grape wines.

Expect the tour and tasting experience to last for a little more than one hour. If you would like a meal, you can purchase one of the gourmet lunch platters on offer.

Ohana Winery is located roughly a 3.5-hour drive from Brisbane; a 50-minute drive from Hervey Bay (the gateway to Fraser Island); and a 40-minute drive from Bundaberg (where Bundaberg Rum is made).