Embark on an epic 4-day adventure and tackle one of the Great Walks of Australia as you walk along Tasmania's Freycinet Peninsula. Hike along rainforest trails, rocky coves and sandy beaches, and spot native wildlife like dolphins and wombats. Pass UNESCO-listed landscapes, cruise to Schouten Island and admire natural landmarks like White Water Wall, Saltwater Lagoon and Quartzite Ridge. This small-group tour is limited to 10 hikers for a personalized experience and includes accommodation in a traditional lodge, all meals and round-trip transfers from Hobart.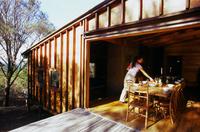 This 4-day Freycinet experience walk is one of the Great Walks of Australia, a collection of walks that take you into ancient rainforests and vast national parks, among other breathtaking environments, on highly customized walking journeys. With a guide, meals, and comfortable lodging included, you'll make the most of your journeys to UNESCO World Heritage sites and other spectacular locales.


Itinerary
Day 1: Hobart -- Coles Bay -- Schouten Island, 3.5 miles (6 km) of walking (L, D)
Meet your walking group at the Old Woolstore Apartment Hotel in Hobart for a lovely 3-hour drive to Coles Bay on the Freycinet Peninsula. You'll stop for morning tea near the historic Spiky Bridge outside Swansea. Once you arrive at Coles Bay, board the Naturaliste for a scenic cruise down the peninsula's western coast to Schouten Island, Freycinet's southernmost point. Enjoy a picnic lunch then walk up Bear Hill for stunning views of the peninsula, or go fishing for your dinner in Schouten Passage. Return to your lodge at Friendly Beaches for dinner of freshly caught fish paired with fine Tasmanian wine.

Overnight: Friendly Beaches Lodge

Day 2: Coles Bay -- Mt Graham -- Wineglass Bay, 7.5 miles (12 km) of walking (B, L, D)
After an early breakfast at your lodge, you'll be transferred to Coles Bay for a boat trip down the peninsula. Arrive at Bryan's Beach for a choice of two walks. Take a tranquil, coastal walk from Bryan's Beach to world-famous Wineglass Bay. Alternatively, embark on a more challenging walk from Cook's Beach to the top of Mt Graham, descending to Wineglass Bay via the spectacular Quartzite Ridge. Take a swim in the perfectly shaped Wineglass Bay before making the steep climb to the lookout for views over the water. Return to the lodge by vehicle and relax with a hot shower before dinner.

Overnight: Friendly Beaches Lodge

Day 3: Coles Bay -- Bluestone Bay -- Friendly Beaches, 7.5 miles (12 km) of walking (B, L, D)
Following breakfast, a 4WD vehicle takes you to Bluestone Bay to admire the unusual cliffs of White Water Wall. Climb the Bluestone Bay cliff tops, and then follow a track used by the Indigenous Oyster Bay tribe that is dotted with rare grass trees and flowering plants. Walk among orange lichen-covered rocks on the Friendly Beaches headland, then stroll along white-sand beaches on the way back to the lodge. Enjoy afternoon tea and a relaxing evening by the fire at the lodge.

Overnight: Friendly Beaches Lodge

Day 4: Coles Bay -- Saltwater Lagoon -- Isaac's Point, 3.5 miles (6 km) of walking (B, L, D)
Sleep in, or take an early-morning swim. After breakfast at the lodge, walk along the ridge of Mt Mary, known for its fossils, and descend to Saltwater Lagoon to see nesting black swans and pelicans. Enjoy lunch at the lodge before a walk along Friendly Beaches to Isaac's Point. Here you'll find your vehicle waiting to return you to Hobart at the end of your memorable four-day Freycinet Experience.

Accommodation:
All nights of the walk are at the one lodge, which means there's no packing up until the last day, and you'll only carry day-packs containing lunch, water and personal needs.

Walks start and end at the Friendly Beaches Lodge. The lodge is set on a secluded 400-acre property surrounded by Freycinet National Park. It's specially designed to ensure walkers have all the amenities they need at the end of a hard day on the trail: a hot shower, a comfortable bed and a gourmet meal. The lodge is tucked in a pristine coastal forest of native pines, banksia and wattle; it's the perfect place to unwind. In the evenings, fabulous regional food is prepared on-site. Menus include fresh local flathead, oysters, grain-fed beef and some of Tasmania's best wines.