Indulge your need for speed with a 7-hour cable wakeboarding experience in Hurghada. Travel to a cable water park and ride a wakeboard pulled by motorized cableways rather than motorboats. Choose a beginner or advanced session depending on your abilities, and spend three hours speeding across the water. Lunch, all equipment and hotel pickup and drop-off in Hurghada, Al Makadi, Sahl Hasheesh and El Gouna included.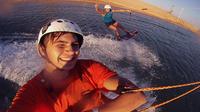 After hotel pickup in Hurghada, Makadi Bay, Sahl Hasheesh or El Gouna, travel by private vehicle to the El Gouna Cable Park, one of the biggest parks of its kind in the world.

Cable wakeboarding involves wakeboarders being pulled by above-water cables instead of motorboats. This enables novices to learn at slower speeds and gives riders more 'air' for sharper turns.

On arrival, enjoy a welcome drink and check out the park's facilities, including the lakes, cableways, pro-shop and restaurant. Then, after an introduction and safety briefing, don your supplied equipment and with an instructor providing guidance, enjoy your chosen beginner or advanced session.

Beginner Session:
Start with 20 minutes on an easy-ride cable specially designed for novices, including children. If you wish, ride a kneeboard or waterskis. Then, enjoy three hours wakeboarding on the beginner lake, complete with a 2,559-foot (780-meter) cable, slalom course and plastic obstacles.

Advanced Session:
After 20 minutes on the easy-ride cable, enjoy three hours' wakeboarding. Either enjoy the counter-clockwise 2,559-foot (780-meter) cableway with slalom course and obstacles on the beginner lake, or go for the 1,049-foot (320-meter) clockwise cable equipped with sliders, rails and kickers.

After your session, refuel with lunch at the restaurant before finishing with a hotel drop-off.