Prepare to be entertained on this 3-hour evening tour from Jaipur, as you tuck into a delicious dinner of traditional Indian cuisine at a local restaurant. The food isn't the only star of the evening though – your dinner experience is accompanied by a thrilling Rajasthani puppet show. Admire the beautifully carved puppets, with their brightly colored costumes, and enjoy the unique Indian folk art as you watch the enthralling visual and musical performance.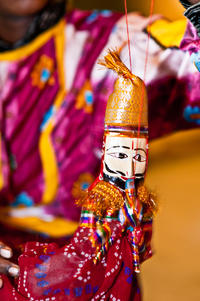 Your driver will pick you up at your hotel in Jaipur in the evening and take you to a popular local restaurant to enjoy a 2-hour puppet show and dinner.

While dining on a spread of traditional Rajasthani specialties, watch an entertaining show of lively, dancing kathputlis (puppets), carved from wood and brightly decorated with printed fabrics.

The narrative will take you into a world of valiant kings, beautiful princesses and powerful magicians, giving you a glimpse into past and present lifestyles in India. As the performance unfolds, accompanied by traditional Indian music, you'll learn about Indian folklore, myths, legends and aspects of local culture.

After dinner and the show, you'll be taken back to your hotel.