Visit one of India's most important Hindu sites of pilgrimage on this full-day tour of Pushkar from Jaipur, including hotel pick-up. Make the most of your private guide as you uncover Pushkar's rich spiritual heritage and tour the magnificent Brahma Temple. After a delicious lunch of typical Indian cuisine (included), visit Pushkar Lake, where pilgrims gather to bathe in the holy waters or make offerings to the gods.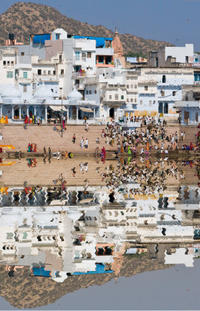 After pickup from your hotel in the morning, your guide will take you on a 2-hour drive by private, air-conditioned vehicle to Pushkar, one of India's oldest cities. Located on the shores of Pushkar Lake, the city is thought to have been created by Lord Brahma, a Hindu god known as the creator of the universe.

When you arrive, visit Brahma Temple, dating back to the 14th century. From the outside, notice the marble and stone construction and see its distinct shikhara (red pinnacle). Enter the temple with your guide and see the holy life-size image of Brahma, with four hands and four faces, each oriented in a different direction.

At midday, depending on your sightseeing schedule, your guide will take you to a local restaurant to enjoy an authentic Indian lunch.

Next, walk to nearby Pushkar Lake and learn how it's considered the holiest lake in the country. Your guide will tell you how it serves as a bathing spot during Kartik Purnima, a Hindu holiday celebrating a full moon, where devotees come to cleanse themselves of their sins.

Here, you may see pilgrims taking a ceremonial bath prior to entering the Brahma Temple. On the banks of the lake, you may also witness a traditional puja ritual, a religious ritual performed by Hindus as an offering to various deities. If you wish, you may participate in this ritual with the help of your guide for a truly immersive experience.

After your private tour, you'll return to your Jaipur hotel in the evening.