Rise into the Golan Heights on a full-day trip from Jerusalem, and take in the scenic landscape of the high, mountainous plateau. Visit border hot springs and a Talmudic village, explore the ruins of a 6th-century synagogue and spot ancient Hebrew inscriptions. Take in views from the top of an extinct volcano above the Quneitra Valley, and get a birds-eye view over one of the Levant's most contested regions.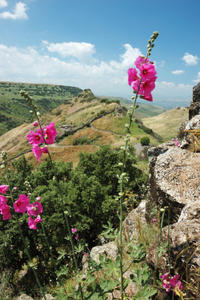 Leave your Jerusalem hotel and travel north to Golan Heights, the stunning mountainous region in northern Israel. Golan Heights lies some 118 miles (190km) away from Jerusalem, so – to break up your journey – enjoy a couple of photo stops along the way.

Ogle the views from the vantage point of Megiddo, where successive ancient settlements were built on top of each other, and then stretch your legs at Yarendit, the sacred baptismal site on the banks of the Jordan River.

Your first stop is Hammat Gader, a hot springs on the edge of the Syrian and Jordanian border, where you'll stop for photos. Then, continue to the village of Katzrin to admire its sights on a walking tour. Though it's considered as the capital of Golan Heights, Katzrin is actually a Talmudic (ancient Jewish) village with incredible ruins scattered all around. Visit Katzrin's synagogue, and admire the remains of the 6th-century building that still features some original decorative details. Look out for ancient Hebrew inscriptions on the ruins of the synagogue's original walls and columns as you walk around.

After a break for lunch (own expense), travel by coach to the top of nearby Mount Bental – one of Golan Height's extinct volcanoes. Towering above the Golan plateau, the mountain lends itself to breathtaking views over Quneitra Valley in Syria. Pose for photos against the valley backdrop, and then start your journey back to Jerusalem.

Your day trip finishes with a hotel drop-off in central Jerusalem in the early evening.