Leave Jerusalem on a full-day trip to Tiberias, Safed and Mount Meron and explore Judaism's most sacred sites. Visit the tombs of two remarkable rabbis in Tiberias, a holy city on the shores of Galilee; continue to a hilltop settlement that's a center of Kabballah mysticism.  Take in the views from the summit of Mount Meron, where Orthodox Jews gather for ceremonies beside the tomb of Rabbi Shimon bar Yochai, then finish the day at your Jerusalem hotel.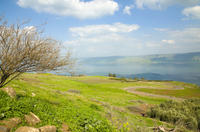 Leave your central Jerusalem hotel in an air-conditioned minivan in the early morning, and drive north along Israel's Mediterranean coast. Turn east across the plain of Armageddon and on the way, catch views of the archaeological site that was the Bible's Hill of Megiddo.

After a brief stop at a diamond factory and some included light refreshments, continue to Tiberias. Sitting on the Sea of Galillee, it is one of Israel's four holy cities. Here, visit the burial spot of Rabbi Meir Baal Haness, which translates as Rabbi Meir the miracle worker, and see how the stone pillars marking his early grave are incorporated into his 19th-century tomb.

Also, see the grave of 12th-century Rabbi Moshe ben Maimon, the great sage and codifier of Jewish law. View his tomb and hear how the site was chosen at the spot where a camel carrying his body came to a stop.

After a break for lunch (own expense), continue to the holy city of Safed. This picturesque, hilltop settlement is a center of Kabbalah — Jewish mysticism — and still exudes a sense of mystery and magic. Walk through the historic, cobbled streets of Safed Old Town and visit Ari Ashkenazi Synagogue, Isaac Luria Visitor Center and the colorful artists' quarter.

Next, head to Mount Meron, the final resting place of Rabbi Shimon bar Yochai, the author of the Zohar, Kabbalah's primary text. Visit his tomb and hear how thousands of Orthodox Jews gather here at Lag B'Omer to celebrate and give their 3-year-old sons their first haircut.

Finally, return to Jerusalem where your tour finishes with a drop-off at your hotel.