Pan for gold, keep everything you find and dig into an Alaskan salmon bake on this adventure from Juneau. At Gold Creek and Last Chance Basin, learn how to sift for the precious metal. Once you've made your fortune, warm up by a campfire for a buffet and roasted marshmallows. Watch a Tlingit Master Carver at work on totem poles and silver, visit Salmon Creek waterfall and enjoy a short tour of Juneau. Hotel transport included.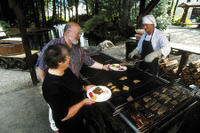 By day you're a gold miner, ravaging Gold Creek and Last Chance Basin for pieces of gold; by night you're a true Alaskan, eating fresh seafood at a traditional salmon bake. This is the gold panning and salmon bake combination tour from Juneau!



Your day starts in Juneau, where your guide will take you on a brief tour of Alaska's capital city. From there, head up to Gold Creek and Last Chance Basin to learn all there is to know about gold panning, the simplest form of gold mining. Get the hang of it with help from your guide, and then try it on your own. Best of all, everything you find is yours to keep, and take home a souvenir Orelove Brothers Gold Claim Certificate.



Next, follow your guide to a traditional Alaskan salmon bake. Your lunch or dinner (depending on your chosen tour time) includes grilled salmon, Cheechako chicken, Chilkoot baked beans, Tongass wild-rice pilaf, White Pass pasta and more. Eat as much as you like, and then roast marshmallows on the fire.

With your appetites satisfied, walk to Salmon Creek waterfall or check out the entrance to the historic Wagner Mine for glimpses of mining relics.

You also have the opportunity to watch Doug Chilton, a Tlingit Master Carver, and his son, work on two 10-foot-tall (3-meter-tall) cedar totem poles and silver jewelry. Learn about the lore and culture behind their ancestral craft, and don't miss the chance to purchase original works of art from the gift shop.

With several shuttle departure times available in the evening, you choose when to return to your Juneau hotel.