Take in the major attractions of Kathmandu Valley with a private guide on a 6-hour tour from Kathmandu. Travel in a comfortable private vehicle to UNESCO World Heritage sites, Swayambhunath Temple, Pashupatinath Temple, Boudhanath Stupa, and Bhaktapur Durbar Square. Gain insight into the history and culture of Nepal, and hear about the impact of the 2015 earthquake during this comprehensive private tour.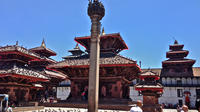 Your tour begins with pickup in Kathmandu and transfer to Durbar Square, located near the Thamel district.

Explore Durbar Square with your guide, who shares the history of this UNESCO World Heritage Site. See top sites in the square, such as Kumari Chowk, a 3-story palace where people worship a human incarnation of the Goddess Kumari.

Continue to the location where the Kasthamandap temple stood until its collapse in the 2015 earthquake. Kathmandu was named after the temple, which was built from one single Sal (sorea robusta) tree.

Once you have explore Durbar Square, relax in your private vehicle for the 30-minute drive to Swayambhunath. The revered 2,500-year-old stupa overlooks Kathmandu Valley, and is one of Nepal's most important Buddhist pilgrimage sites.

Continue another 30 minutes to Pashupatinath temple, a Hindu temple dedicated to Lord Shiva, and one of the oldest temples in Kathmandu. Next to the temple, pilgrims bathe in the Bagmati River, which also contains a cremation area for the royal family.

Next up, visit Boudhanath temple, revered by Tibetan Buddhists and named a World Heritage Site. Stop for lunch at a restaurant near Boudhanath stupa, then head to Bhaktapur, an old Newar town that suffered extensive damage in the earthquake. See highlights such as the palace of 55 windows, the Golden Gate, Mulchok Court, and Taleju Temple.

Return to Kathmandu after visiting Bhaktapur, taking in the scenery during the 45-minute drive that ends with hotel drop-off.