Sail the majestic Napali Coast and witness its beauty with 4000' cliffs, cascading waterfalls, sea caves, secluded beaches, dolphins, turtles and breathtaking scenery! You will see why the Napali Coast is known as the jewel of Hawaii and the 8th wonder of the world. Feel the wind in your sails as our crew entertain your imagination with Hawaiian legends and history. Nobody sails more and its not uncommon to reach speeds of 20 knots or more. Snorkel along the coast of Kauai, all you gear, food and beverages are included.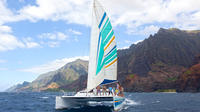 The best way to see the spectacular scenery of the Napali Coast is from the water! This tour departs from Port Allen every morning for this snorkeling and sailing adventure. Meet your friendly captain and crew, then climb aboard a 50-foot sailing catamaran and settle in among spacious sun decks or an open-air cabin.

Enjoy breakfast on-board as you make your way along the dramatic coastline of jagged, 4,000-foot (over 1200 meters) cathedral spires, dotted with sea caves and waterfalls. Keep an eye out for passing marine life, such as dolphins, sea turtles and migrating humpback whales (December through April only). When the winds are favorable, your crew will hoist the sails for a thrilling wind-powered ride.

Weather permitting, you'll stop at a calm spot and splash into the clear, warm waters to snorkel. Get an up-close look at Kauai's amazing underwater world and swim with brightly colored tropical fish. When hunger strikes, enjoy a delicious picnic lunch while you soak up the island sun and breathtaking scenery. Expect to get wet and bring a lightweight jacket.