Embark into the heart of the Kauai jungle on a kayaking and hiking adventure. You'll paddle along the Wailua River, then continue another mile on foot to a spectacular 100-foot-tall waterfall. A picnic lunch awaits you, as well as ample time to cool off in a local swimming hole and savor the surrounding valley's lush rainforest scenery, such as tropical plants and streams. Your guide will offer plenty of details about the Wailua Valley, including its unique botanical offerings and the ancient cultures who thrived here, throughout the day.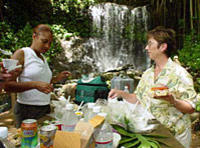 Paddle deep into the heart of the island on this kayaking Kauai adventure, all the way to the shadow of Mt Wai'ale'ale. After an easy paddle upstream, you'll tie your kayaks to a tree and take a somewhat rugged and very beautiful 1 mile (1.6km) hike to a dramatic 100' (30 meter) waterfall. Sit on some big basalt boulders at the bottom of the pool and savor a delicious picnic lunch while enjoying the stunning scenery that surrounds you. Then, hike back down to the ruddered tandem open cockpit kayaks for some more fun paddling!

As you pass through this spectacular and interesting valley by kayak and on foot, your guide will be sharing the mana'o (knowledge) of the island. You'll be filled in on the history of ancient Kauai and how the Ali'i (royalty) and Maka'ainana (common people) lived and played here long ago. You'll learn about the unique and unusual medicinal and food plants that inhabit Kauai's Wailua River Valley, as well as identifying many beautiful ornamental plants, both native and introduced. All this will take place as you get to know each other and have some laughs in this incredible setting.

The return part of this kayaking Kauai tour is downstream, but into the trade winds, giving you a bit of a workout on this leg of the journey. If you don't mind a bit of exercise, this tour will be the one for you! With swimming holes and native exotic botanical wonders, the Wailua truly is a fantasy world of Hawaiian deep jungle scenery.