Pedal your way around the sights on this 4-hour small-group bike tour of Kochi, with a maximum of 12 people. Glide along the lively waterfront with its giant Chinese fishing nets and buzzing fish market, then weave through the colorful food and spice bazaar. Stop along the way to admire the beautifully preserved colonial buildings, explore the Indo-Portuguese Museum and visit the Dutch Palace, where you can refresh with a cup of chai tea (included).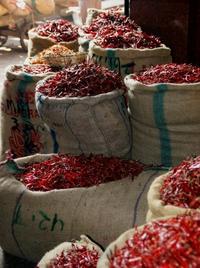 The best way to discover the culturally rich city of Kochi is by bike! Start your adventure at the Indo-Portuguese Museum, and view the artifacts that showcase the history of India's earliest Portuguese Catholic communities. Next, cycle to the Dutch Cemetery, the oldest European cemetery in India, and learn about the Dutch and English migrants who settled in India during the 17th to 19th centuries.

Continue your way north towards the port, and see the large, suspended Chinese fishing nets, introduced by traders from the court of Kublai Khan. Along the coast, you'll pass the bustling fish market and Kochi's main bazaar, where you'll find tea, spices, dried fruit, garlic and cashew nuts. Breathe in the pungent aroma of ginger, cardamom and cloves, and wander the streets to browse the various goods on sale.

Then cycle to the Dutch Palace, and admire the beautiful murals depicting Hindu temple art. Sip a cup of chai tea while you enjoy the tranquil atmosphere. Hop back on your bike and cycle along the coast toward the center of town. Get a glimpse of the life of the dhobis, a caste group found in India who specializes in washing clothes; watch them beating clothes clean.

This guided bike tour provides a stress-free yet adventurous way to navigate Kochi. Your comprehensive bike tour will highlight Kochi's colonial past and cosmopolitan present. Traveling in a small group with a maximum of 12 people ensures you'll have an intimate and unique experience.